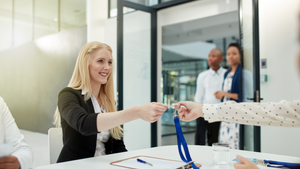 The ultimate guide for choosing the right lanyard for your business
Picking the right type of lanyard for your company is something you should consider before purchasing; it will help you choose the best lanyard for your specific needs. 
Before buying, you need to consider how it can be used and how to save money by buying bulk for your company. 
At Easi-card, we want to ensure that you get the correct lanyard for your business. We care about your choices and want to make it simple and easy for you to decide which one suits you best!
What Is A Lanyard?
Lanyards are derived from the French word "la noue," meaning "the knot". A lanyard is a material worn around your neck to hold identification cards, keys, and other items. 
Lanyards are thin straps, cords, or ropes that go around the neck and rest over your shoulders. At Easi-card we have various materials that you can choose from. Including nylon, silk ribbon, string or braided rope. 
Many different lanyards are on the market today, but our friendly team will help you choose the perfect one.
Let us help you choose the perfect lanyard if you're uncertain. 
What Should You Consider When Purchasing A Lanyard? 
You should consider the type of clip that you want for your lanyard. 
We have these types available:
Swivel hook

Crocodile clip

Breakaway clip

Lobster hook

Shoelace 
Swivel hook
This is our most popular clip type. This clip swivels 360 degrees around, allowing you to easily manoeuvre your attached ID card and present it quickly.
They won't easily open if they become pulled or snagged, which is great for keeping cards. They also have the added benefit of swivelling, although this can mean your card might move around as you wear your lanyard, preventing you from visually seeing the ID. 
Swivel hooks can also be used for attaching keys and a USB.
Petersham lanyard
The swivel hook is complimented well with our Petersham lanyard. This is our most popular lanyard and has a length of 20mm. These lanyards are made of woven nylon and are thick, stiff and flexible. They feel comfortable around your neck. 
Petersham lanyards are great for securely attaching photo ID cards for identification purposes. Allowing IDs to be easily seen. 
Perfect for:
Mines.

Manufacturing companies.

Schools.

Events.
We have these lanyards in different colours, including red, black and royal blue. We sell these lanyards online in a pack of 100. 
These Petersham lanyards are a great way to stand out and make a statement. 
The compatible cardholders with our Petersham are usually our badge cardholder, twinprox and card caddies. 
Crocodile clip
Crocodile clips are perfectly suited to keeping cards facing forward and level because they don't feature a swivel attachment. Therefore, this is a good option if you need your badges to face outwardly all the time for security and visibility. 
Crocodile clips are easy to open and close, keeping your ID card and cardholder safe and secure. 
The crocodile clip is also compatible with the Petersham lanyard, as explained above.
Breakaway clip
The breakaway clip is a great clip for safety reasons. The breakaway clip will release when there is too much tension on the lanyard. Non-breakaway Lanyards can be a safety hazard and can create many unnecessary accidents. 
The colourful interchangeable clips are an exciting way to make your brand stand out from the rest. You can differentiate people based on the colour clip they receive. 
This lanyard comes in groups of 10, allowing you to buy in bulk.
Great for:
Mines.

Manufacturing companies.

Companies that have heavy machinery.

Schools.

Events.
These breakaway lanyards can save your employees' lives. For example, if your employees handle heavy machinery, they can be at risk of injury. Suppose they are stuck in a dangerous position and get their lanyard sucked into a machine. In that case, the breakaway lanyard allows them to be freed and escape this dangerous position, preventing any injuries. 
Children can be saved from dangerous positions, getting stuck and entangled with their lanyards. The breakaway lanyards allow children to break free quickly and prevent any serious injuries from occurring. 
The breakaway clip is also compatible with the Petersham lanyard, as explained above.
Lobster hook
This is a metal attachment that is very easy to use. It's great if you want to replace cards on your lanyard often and easily slip cardholders on and off. The lobster hook is very sturdy and long-lasting. 
However, they're not ideal if you need your card to remain in the direction constantly for identification purposes. This is because the lobster clip attachment swivels around 360 degrees.
It's great if you want to put multiple cards on the lanyard and quickly access it by swivelling your cardholder around. 
The lobster hook is also compatible with the Petersham lanyard, as explained above.
Shoelace 
The shoelace attachment is the most affordable of all the lanyard attachments. This plastic shoelace end is great for companies or events where many people use them because the cost will be much more affordable when buying in bulk.
The shoelace attachment works perfectly with the card caddie cardholder, twinprox or luggage cardholder, as two slots are available to attach the shoelace. This fits snugly without the worry of it falling out. However, if someone does rip the lanyard, the shoelace can fall off, so it is not as durable.
Nylon lanyard cord 
The nylon-string lanyard is worn around your neck to visually display ID cardholders at events, schools, mining facilities, or your office space.
The nylon-string cord is thin and smooth for daily comfortable use. It is small and effective. Buying it in bulk is a great way to save money.
Lastly, you should consider what you will use the lanyard for. 
Lanyards can be used for many different purposes. You have to decide what it is that you need the lanyard for and then determine if it best fits your needs next. This blog goes more into depth about which industries use which lanyards. 
Breakaway lanyards are used for companies that have employees using dangerous equipment or are used as safety measures for their company to prevent any accidents from happening. 

Petersham lanyards are great for events and organizations that use lanyards daily.

Nylon cord lanyards are perfect for companies with many employees and do not mind what the lanyard looks like but need bulk quantities.
Depending on your company's requirements will depend on which lanyard you choose. If you are still uncertain, please feel free to contact us. 
How To Tell The Quality Of Lanyards?
The quality of lanyards is not something you can easily determine from a distance. You need to take a closer look at them before you make your purchase. Many factors affect the quality of lanyards. But the most important ones are the material and stitching.
Workmanship: The stitching should be strong enough to withstand heavy use without coming undone or fraying too much. It should also be neatly done with no loose threads hanging out everywhere.
Material: The best lanyards are made with high-quality materials like polyester, nylon, cotton, etc. Cheap materials like polypropylene or paper will wear out quickly and create an unpleasant feeling for your customers.
The stitching should be tight, and the clasp should be sturdy. Low-quality lanyards are often made with thin, easily breakable materials that are prone to fraying. A low-quality clasp may break or come undone easily. A high-quality lanyard will have a durable, tough material that will not fray easily and a sturdy clasp that will not break or come undone easily.
Here is a blog about a few more benefits of lanyards. 
When Should I Replace My Lanyards?
A good Lanyard can last up to 10 years - but manufacturers usually recommend replacing them every 3 years.
If your lanyard has the below, you should look at replacing them:
Any discolouration, rips or frays.

Any indicators of impact, damage or faults.

Damaged clips or attachments.

Worn out tags.
We make it our responsibility to sell the best quality products; if you feel that you are not happy with the quality, please feel free to contact us about it. 
Lanyard Safety Tips
There are a few safety tips you should keep in mind when using lanyards. 
First, ensure the lanyard is the correct length for your company's needs. If it's too short, it could cause discomfort, and if it's too long, it could get caught on something and become a hazard. Our lanyards are a standard size, so they should not affect your work. They are the perfect level for people to read the information on your cardholders. 
Second, never allow your employees or clients to wear a lanyard around their neck without the breakaway feature if you are a company that handles heavy machinery or a school. The breakaway feature is designed to release the lanyard if it becomes caught on something, preventing you from being hurt.
And finally, never allow lanyards to be used near flammable materials near fire or heat sources. This could be very dangerous. 
Lanyards are an important part of companies identification. Therefore, it is important that you understand that there are some safety features you need to include before giving them to your clients or employees. This will protect you and them from any damages.  
To sum up
Lanyards are a great way to keep hold of your ID cards, cardholders and important information. When choosing a lanyard, be sure to pick one that's sturdy and comfortable to wear for your company's needs. At Easi-card, we will make sure your lanyard is right for you. Would you like to know more?
Contact us today
.
---