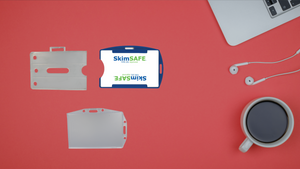 5 Unique Card Holders that Will Make Your Life Easier
Cardholders help organise your cards and protect them from damage and theft. The right card holder depends on which card holder best suits your needs. We will go through five unique cardholders to make your life easier. 
We are specialists in our field and aim to give you all the information necessary to make a well-informed decision on which products suit you best. If you are still uncertain about which products you like best. Contact us, and our friendly staff would be happy to help.
What is a plastic card holder?
Plastic card holders are made of rugged, sturdy plastic material that won't crack easily. They protect your cards from wear & tear and moisture. Cardholders can last up to 10 years longer than cards because of the protective casing around the card. 
Benefits:
Hard plastic material. 

Lasts up to 10 more years.

Protects cards against wear & tear.

Reduces unnecessary damage. 
Cardholders are perfect for nearly every industry. These industries include mining, corporate, retail, manufacturing, trade shows, events & more.
Why are cardholders necessary? 
There are many reasons why cardholders are essential, and they serve multiple benefits for your cards. Here are a few reasons why:
Security and identity verification.

Fit multiple cards into one case.

Quick access to cards. 

Cost & Durability. 

Convenience.

Branding and awareness.

Compatibility with clips, lanyards & key rings. 
Security & Verification
Cardholders allow your employees to present their identification cards on their shirts or hang them around their necks. Security officers or access control points affirm that your employee is who they say they are, preventing criminal activity in your company - protecting you and your fellow employees. 
Cardholders are easy to access and read if worn around the neck or clipped on a shirt. 
Branding & Awareness 
Branding is a great way to get your company name out there. Ensuring that your employees wear their cardholders will allow others to recognise your brand and promote your business through word of mouth. 
Branding is a perfect way to get your company noticed and provides a great talking point for potential customers. 
Branding is also an excellent way for your employees to have a sense of belonging and commitment to your business. 
Convenience
Cardholders are great because they allow you to access your cards. Cards can be accessed stress-free, conveniently and quickly without fumbling around your bag to find them. 
Cardholders can keep up to three cards within their reach. It is much easier to access the premises and show your identity simultaneously. We will go more into depth about these types of cardholders. 
Cost & Durability 
Cardholders keep their cards safe for up to five to ten years more than the card's lifespan. You will not have to replace your cards regularly as you would in a wallet or purse. 
This reduces unnecessary costs of replacing cards and getting new ones every second year, saving you time and money. Cardholders are generally much more affordable than wallets or purses expected to last long. They provide the ability to see a person's identity and verify them visually. 
Different types of cardholders
Multiple Cards & Durable cardholder
The best cardholder for the job is the card caddy. You can fit up to three cards in this card holder and ensure that all your cards will be protected from wear and tear. 
Perfect for mines, security companies, and big industries, you can have the access card at the back, with a medical aid card in the middle and an identity card at the front for security officers to verify employees. This cardholder is one of the most durable cardholders on the market. Because of its strong plastic material, this cardholder can last up to two years longer than the other cardholders. 
The sliding lid allows you to insert three cards at a time. Protecting your cards from all sides. 
Attach lanyards, including the nylon string lanyard or PVC badge strap, to this cardholder vertically and horizontally. Slots on both sides of the cardholder allow you to wear your card in two different ways.
This cardholder is perfect because it is very compatible with different accessories. 
The card caddy is pretty popular in many different industries. If you are interested in this, buy online or contact us. 
Secure card holder
One of the significant issues we face in the card industry is skimming and scanning the card's important information. Criminals can easily access your premises if you have not secured it properly, clone your cards, pretend to be one of your employees, and gain access. Unfortunately, this is a big issue, and there are ways to combat it.
If security is one of your biggest concerns in your industry. This cardholder is for you!
The SkimSAFE cardholder offers peace of mind when you need to carry sensitive RFID Access Cards, Debit Cards or Credit Cards around. 
When someone tries to skim your card details using skimming devices (easily bought on Amazon or Takealot), a built-in jamming device is automatically activated, creating a protective forcefield around your cards, making it impossible for thieves to obtain your card details.
These are great devices for RFID protection, preventing skimming, and offering theft protection. Companies like mines and office buildings use these and drastically reduce criminal activity.  
If cards cannot be cloned or copied, there is no reason for criminals to access your premises unless one of your employees has given them their cards or if a card has been stolen. Usually, when this occurs, security stops them from entering the premises because the ID card and photographs do not match. 
SkimSafe is one of the best solutions out there for preventing criminal behaviour. 
Keyring cardholders
Keyring cardholders are built for convenience and easy access. If your business needs something convenient and quick, this is the best solution for you. 
Perfect for industries that have a lot of drivers or are in the retail or manufacturing industries. 
Keyring card holders allow your driver to keep their driver's licence, medical aid card or petrol card safe while driving and attached to their keys for quick access. If they need to pay for fuel or take their driver's license, this is easily accessible. 
Easily compatible with your car keys, house keys or belt. Designed to withhold a single card with easy access through the slider. 
Keyring cardholders are most compatible with a key ring which is very durable and long-lasting. 
Brand identity card holders
Luggage cardholders are perfect for getting your brand out there. You can silkscreen your brand onto the bottom of your cardholder, making it stand out from the rest and become more personalised. 
This cardholder is excellent for students, employees or access ID cards. Holding only one card horizontally.
The suitcase handle is used for a loop, clip or lanyard, perfect for attaching to bags, shirts, around your neck or wallets. 
Luggage cardholders can also be used for your luggage. You can personalise it by adding your name and number with a luggage loop and ensure your luggage never gets lost. 
If you are in any of these industries above, this cardholder does the best job.
Identity & Verification Cardholders
The clear badge cardholder is the best holder for clearly displaying names, faces and company names. 
Perfect for student IDs, employee IDs and access cards. Clear badge holders also allow you to personalise your cardholders with your business logo, creating a brand identity. 
The clear armband can be attached with a PVC badge strap clip or lanyard, whichever you prefer. 
The clear badge cardholder also looks very professional when wearing it, making your company look much more professional.
Conclusion 
At Easi-card, we specialise in card products and want to ensure that we give our customers the best service and advice possible. 
It may be challenging to give you a straightforward answer on which cardholder is best for you, but we can assure you that the one that fits your industry will make your life easier. 
Cardholders are safe. Help your cards last longer, prevent criminals from accessing your card information and are easy to access.
Based on the information above, you can decide which cardholder fits your company best. Determine what issue your business has:
Wear and tear.

Security.

A large number of cards.

Easy access.
You can decide for yourself. 
For more information, do not hesitate to
contact us
. 
---