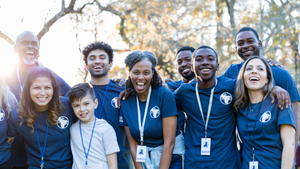 Your Guide to Buying The Right Lanyards For ID Card Holders
Finding the perfect lanyards to hold your ID cards can be a tricky process. From choosing the right attachment option to deciding on the material of your lanyard, there are some key factors you need to consider before selecting one for your organisation. With this guide, you'll learn everything you need to know about buying quality, secure lanyards for your ID card holders.
Understand Your Security Requirements.
It's important to understand the security requirements of your organisation before you start shopping for lanyards. 
If you work in a high-security environment, then it's best to choose lanyards with reinforced attachment clips to ensure extra security. Preventing theft or damage to your ID cards and lanyards.
If you work in a high-safety company where your employees are working with hazardous machinery and can get seriously injured if their lanyard lands up in the machines, then our breakaway clips are the best option for you.
Affordable lanyards like the nylon string lanyards are perfect for companies who don't want to spend a lot of money but need a lanyard for identification purposes. 
Consider all the security features your organization needs when deciding on a lanyard for your ID card holder. We have a lanyard for any environment, but you must decide which best suits your needs.
Choose the Right Materials and Style. 
When it comes to choosing lanyards for your ID cardholders, there are countless styles and materials to choose from. 
Make sure the style you select suits the environment where your ID cardholders will be used.
Polyester, nylon and other fabrics offer a comfortable fit, while silkscreen printed to provide a more formal look. 
Nylon lanyards give off a sleek, professional look and are especially secure for use in higher-security environments. Choose the material that best fits your organisation's security needs and aesthetic preferences.
Nylon lanyards are the most popular and most sold at Easi-card. We do provide silk screening, however, you will have to enquire about your branding and quantities. We will take orders from 100 quantities and above and will need your artwork before we proceed. 
Make Sure Quality and Durability Are High Priorities. 
Reliable lanyards that last a long time are essential for saving both money and time.
Before making your purchase, it's important to look closely at the product claims from lanyard manufacturers. Read customer reviews and ask questions regarding lanyard quality, durability, safety features and any warranties offered. 
Determining these qualities ahead of time will help ensure you don't waste your money on poor-quality lanyards that need replacing in a short amount of time.
At Easi-card we ensure that our lanyards are top quality and we only supply decent products to our clients. If we can't do this, please feel free to contact us, and our friendly staff will be happy to help. 
Consider Features like Comfort and Easy to Use Clips.
It's important to consider certain features when buying lanyards for ID card holders. Consider the comfort of the lanyard as well as features such as easy to use clips. 
This is essential for ensuring that employees can quickly and easily attach their ID card, but also guarantee its safety once it's attached. Clips on the lanyards can help protect your staff against unauthorized access, resulting in a safer workplace environment.
There are four different types of clips that you can choose from when deciding on which lanyard to use. 
Swivel clip 
Swivel clips are a great way to keep your keys, ID cards, or other small items securely and easily accessible. They feature a metal clip on one end of the lanyard that attaches to an item you want to secure, while providing a full 360 degree mechanism that allows you to swivel your ID card holder when necessary. 
The swivel clip is usually attached to our cord or petersham lanyard which is made of nylon. The clip links to the lanyard that will be worn around your neck.
This simple and easy to use clip allows you to easily access what you need without having to take off the lanyard
Perfect for quick access to corporate events or crowded areas like airports, train stations, or events. 
Features:
Metal clip keeps items securely attached.

Full 360 Degree swivel allows quick access when needed.

Durable.

Variety of colors available for lanyards.
Benefits:
Easily and securely carry items without worry of losing them or damaging them. 

Full 360 degree swiveling motion allows you to easily access your items when necessary.

Comfortable and easy to use design ensures that you can securely carry your items without any discomfort.
Breakaway clip
The breakaway lanyard is a revolutionary approach to occupational safety. No longer do you have to worry about your employees being pulled too close to hazardous machinery or conditions. The breakaway lanyard works by automatically disengaging from the main clip when it is pulled too hard, separating the employee and eliminating any potential harm that could be done. 
This lanyard is designed with comfort in mind, with its adjustable feature allows for one size fits all so your employees are comfortable at all times.
You can get different coloured clips that suit different departments as you deem fit. These clips are made of PVC and are very durable. Protecting you and your employees from time and injuries. 
Features:
 Adjustable one size fits all.

High quality strength nylon lanyard.

The breakaway feature reduces hazardous tension.

Soft and comfortable nylon material. 

Easy snap closure for quick connecting and release.
Benefits: 
Protects employees from hazardous machinery.

Lightweight & Comfortable Design.

Quick Release Mechanism adds extra safety.

Resilient design - tough enough to handle demanding environments yet still comfortable and breathable.

Easily inspectable - you can check any time that it's still in good condition.
Crocodile clip
The crocodile clip lanyard is a perfect accessory to any badge holder. This stylish and versatile lanyard features a metal crocodile clip that securely holds badges in place.
The crocodile clip is much more aesthetically pleasing and an ideal accessory for any event or company with a strict dress code. Perfect for showing off ID badges, keys, name tags and security cards. The metal crocodile clip holds your items safely in place.
Features:
Metal crocodile clip.

Wide clip allows for clear badge viewing.
Benefits: 
Easily identify staff/visitors with reusable lanyards.

Securely holds badges/keys without losing them or leaving them out of sight.

Stylish lanyard and available in multiple colours.

Comfortable to wear around the neck all day long.
Nylon string 
This is not a clip, however it is a great attachment to cardholders and is very popular because of its affordability and durability. 
The nylon string lanyard is smooth and thin, for daily comfortable use.
Which clips are best for which ID cardholders?
The swivel clip is most compatible with our range of twinprox and clear badge ID card holders. This is because they can be easily visible with the 360 degree motion. These cardholders are clear to see through and provide great durability for your cards.
The breakaway clip is most compatible with our card caddie cardholder, perfect for companies like mines or big corporations that use massive machinery and need multiple cards in one cardholder. The card caddie is designed to store three cards in one and is a very durable card holder. Ensuring that your cards will not be damaged or broken.
The breakaway clip can also be used for the colour ID card holders especially for schools or universities if you want to separate departments. The breakaway lanyard is a great added touch especially for children who may wear them during break on jungle gyms and get tangled up in the lanyards. 
Crocodile clip lanyards are perfect for the clear badge ID card holder and the frosted ID card holder because it can be easily clipped on and visible to see without the need to twist or turn out of visibility. These are perfect for corporate events where people are getting to know each other and provide a much more professional look for the company.  
Factor in Colour, Length, Width and Logo Printing Options When Shopping Around for Lanyards.
It's vital to find a lanyard that's comfortable to wear and keeps the badge secure. But it's also essential for the lanyards to match an organization's branding needs as well. 
Colour is an important factor when you are shopping for lanyards, and there are a variety of colors available from Easi-card such as black, red, navy blue or neon green. Our cord lanyards have a lot of different colours whereas our petersham lanyards are more restrictive.
Petersham lanyard colours:
Red.

Royal blue.

Black.
Cord lanyards:
Yellow.

Red.

Purple.

Blue. 

Green.
In addition, look for customized printing options such as logo designs or names to give your ID cards additional personalization. We do supply silkscreening as stated above, however you will have to enquire more about this with our sales team. Please contact us at sales@easi-card.co.za for more information on this. 
Lanyard length and width are also essential when looking for the perfect match for your organization, so factor those in as well. 
Our Petersham lanyards have a standard length of 20mm, the perfect size for everyone. Our cord and breakaway lanyards are also the same. 
If you're still uncertain which lanyard best suits your needs, please feel free to look at our ultimate guide to choosing the best lanyard for your company using the link. 
To sum up
Choosing the right lanyard for ID card holders can be a tricky process, that is why we are here to help make it a smoother experience for you to decide. Depending on the needs and demands of your corporation, this guide will give you some information on which lanyard and which card holder is best for your buck.
At Easi-card we provide quality products that meet your needs and wants of your company, please let us know how we are doing and get in
touch
. We appreciate your support.
---