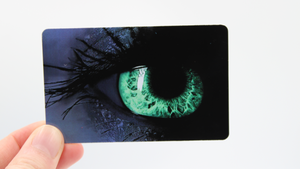 A Quick Guide to Card Printer Ribbons
If you've bought a new card printer, printer ribbons can be confusing. How can you put them in your card printing machine? What are print ribbons? These are a few questions we get asked at Easi-card.
This guide will give you a complete overview of print ribbons and which is best for you. Understanding printer ribbons and knowing which is best for your printer is vital in designing and printing high-quality ID cards. 
At Easi-card, we want you to produce beautifully designed cards from your chosen card printer. We are here to support and help you understand what it means to make beautiful cards with your print ribbon. 
What is a printer ribbon? 
A printer ribbon is a thin film of repeating colour panels. Print ribbons are used to carry a printing ink of either a single solid colour (monochrome) or various colours of dye which is then applied directly onto the surface of a card.
You can get two types of printer ribbons, a monochrome print ribbon and a colour print ribbon.
Monochrome ribbons contain a single colour panel and can only print in that colour without any shades. Monochrome ribbons are ideal for printing text and barcodes.
Full-colour ribbons can print any colour you like and are perfect for producing loyalty cards, gifts, IDs or business cards. The colour panel can produce images in high-quality resolution, generally at 300 dpi (dots per inch). 
The card you want to produce depends on which printer ribbon you choose. Monochrome will be the best if you are just using your card for a barcode system and don't need any designs on the card. If you design a card to look professional and good for your company's brand with your logo, photo ID or just a basic gift card, you will get a colour ribbon. It is important to note that if you'd like to still print in monochrome with your colour ribbon, you can, which means you do not have to switch the ribbon whenever you want to use a different colour. 
Colour printer ribbons are more universal because you can use both colour and monochrome colours at once.  
How does it work?
A ribbon produces high-quality images, including accurate text and barcodes for your cards. Card printers work by inserting coloured or monochrome panel ribbon prints. 
Step-by-step process:
Step 1: Open the printer cover of your card printer. 
Step 2: Take out the ribbon cartridge which you will insert the ribbon into.
Step 3: Remove your printer ribbon from its packaging and place it outside the box. 
Step 4: The ribbon cartridge and spools are usually colour coded. Place the ribbon spool colour onto the matching spindle colour on the cartridge. Make sure you hear a click once it is inserted properly. 
Step 5: Tighten the printer ribbon by moving the ribbon anticlockwise until you see the colour or monochrome colour go towards the darker colour. 
Step 6: Place the ribbon cartridge back into the card printer, hooking it into the correct place. Close the printer cover until you hear a click. You can run a cleaning card before you begin to ensure that the card printer is clean from dirt, oils and dust. 
Step 7: Print a test card to see the rich colours from your printer ribbon. 
The printing process may be different for different card printers. A direct-to-card printer is different from a retransfer printer.
Direct-to-card printer:
This is the most well-known printer, and lower range printers sold on the market in comparison to the retransfers printers. Direct-to-card printers will give you faster print speeds and lower cost per card than retransfer printers.
The heating element inside the printer heats the printhead. The printhead comes in direct contact with the card surface to print the card design onto the card. The printhead on a direct-to-card printer contains thousands of pixels that print directly onto ID cards to produce crisp, clear photos and text.
The best direct-to-card printers on the market are the DS1, DS2 and DS3 card printers. The Evolis Primacy is also a great option. 
The issue with this card printer is that it does not do over-the-edge printing, so you will have a white border around the card which may not look as professional as you'd like. Printheads can get damaged if you alter the printer property settings and may start to snap the ribbon if the temperatures are set too high. 
These printers are also great for producing beautifully designed cards for your business. Above is a picture of a card we printed on the DS3 card printer. You can see the rich colours and designs printed on the card with no blemishes. 
These are perfect for printing cards for:
Membership cards

Gift cards

Basic photo ID cards

Student ID cards

Business cards
Retransfer printer:
A retransfer printer prints differently from a direct-to-card printer. Firstly the card design and print ribbon are printed onto an overlay film instead of being printed directly with the printhead. 
Secondly,  the overlay film is bonded onto the card's surface using a combination of heat and pressure, which liquefies the ink. A true over-the-edge is printed with no white border around it. See above what our CR805 card printer printed in high-quality resolution (600dpi). 
An overlay film is a protective layer that prevents the card from peeling or being damaged over time, meaning that your card will last much longer than a direct-to-card printed card. 
The issue with this card printer is the cost and speed. The card printer does not print as fast and is much more expensive because of the advanced technology used to create a beautifully designed card. 
The best retransfer card printer on the market is the CR805. The Evolis Primacy is also great if you want something more affordable. 
Retransfer printers are the best solution for those wishing to create top-quality cards. They add an extra layer of durability and security, and they are great for:
Businesses and corporates

Local government agencies

Hospitals

Public sector organisations

Mines

Anybody that is planning to print onto access control cards
If you're still confused about the printers. Read our ultimate guide on which card printer is best for you!
How do I know which card printer ribbons to use?
Different acronyms explain what different colours mean on a colour ribbon. It may seem overwhelming, so that we will explain them to you. 
Each letter represents a different panel on the ribbon and represents a specific colour that will be printed onto your card. 
The K & O colour
K prints a single monochrome colour. It is ideal for printing barcodes and black text. The O stands for an overlay layer. This is necessary to protect the card from peeling and make it more durable. This layer will be printed over the K layer. 
Monochrome ribbons are ideal for printing text or single-colour images or even personalising a pre-printed card with a single colour.
You do not only have to get monochrome in a block colour; you can get a single colour in Black, White, Green, Red, Blue and Metallic Silver. Datacard supplies all of these colours, and we have them in our shop. These would be perfectly compatible with our DS or SD card printer range. Evolis also supplies the black. 
YMC colour
These are the standard prints used to produce colour on your designed cards. YMC stands for Yellow, Magenta and Cyan, and together they result in just about any colour. This does not come with an overlay panel or a K Black panel, so it is not recommended if clear black text or barcodes are required. This is mainly for a colour-printed card.
Fargo card printers are the main suppliers of these print ribbons. 
YMCKO colour ribbon
This ribbon is the most common across all printers. YMC is the usual Yellow, Magenta and Cyan, and together they result in just about any colour. The K panel is the monochrome panel; it produces crisp quality barcodes and text. 
The YMCKO also finishes with an additional Overlay, a thin clear panel that serves as a coating for your card. It's not as durable or as thick lamination but does offer protection to your card and makes it more durable. 
Additionally, some ribbons allow you to add security watermarks using the overlay panel, which can help improve the overall security of your cards and business.
These card printers use the YMCKO print ribbon: the badgy card printer, Evolis Primacy card printer & the HiTi card printer. 
YMCKT colour ribbon
This ribbon is another variation of the popular YMCKO ribbon. However, the only difference is that "T" in this case refers to "topcoat" and is just another name for the "O" overlay panel. This can be found in the Datacard Entrust brand.
The newest range of Entrust card printers is the DS range; here is the new colour print ribbon. 
The topcoat is a protective layer for the card, allowing it to last longer. 
YMCKT-KT colour ribbon 
This ribbon prints beautiful four-colour images and text while adding a transparent topcoat layer that protects your cards from abrasion and wears and tear. The ribbon also prints black images, text and barcodes on the back of your cards, with a clear topcoat. The extra KT adds a layer of protection to your cards and allows you to print black on both the front and back of the card. 
This is most compatible with the SD series of the Datacard. The colour ribbon is excellent. 
CMYKP colour ribbon
The (P) panel or primer panel is necessary to ensure maximum image adherence when using an Entrust ID card printer that uses pigment ink. The P panel prevents printing in designated parts of the card, like a magnetic stripe, smart card chip, or signature panel.
The T panel is a protective overlay on the back to secure the card's information.
This ribbon works well with the Entrust Datacard SD360 printers. It also works with Entrust Datacard SP55, SP55 Plus, SP75, and SP75. 
Ultraviolet or Fluorescent
A colour ribbon with an F, such as "YMCKF," has a UV panel that can be personalised onto the card. You can put your company logo on it or a generic lock or security feature. UV is a high-security feature that prevents duplicated ID card attempts and is only visible if a UV blacklight is shone. Our clients love this feature because it makes the card more secure. 
Card printers which print with UV are usually in the Fargo range, which is a bit more expensive but will produce more secure cards. However, we do offer this as a specialised print in our factory at a much more affordable rate than buying the card printer. 
Holographic Laminate
Holographic laminate is an element on the surface of your card that is visible in the light to produce colourful images, which add a layer of security. They usually are either generic or custom designs.
This can be:
Company logos 

Pillar icon

Globe icon

Bank icon

Secure lock icon

Secure globe icon
Holograms are a great added feature to your card and make it more personalised; it is also tough to replicate and reduces the amount of fraud. 
Card printers like the Evolis Primacy or the SD460 Entrust card printer can print holograms, but we can also print these specialised cards in the factory as it is a bit more affordable. 
Most printers do not have lamination as an option; these are more advanced features and will cost more. Lamination usually adds R20 000 to the printer's price, making it a high-budget printer. 
Signature Panel 
If your card design requires an area where the user is required to add a signature, we provide this ribbon as a custom design, so you would need to contact us for it. 
Printer compatibility
Before purchasing a printer ribbon, you need to ensure that it is compatible with your own card printer. 
Generally, every card printer brand has ribbons specially made for their printer, so they will not work for others. Ribbons are not the same for all printers for several reasons; ribbon panel dimensions may differ due to card entry direction, ribbon cartridges fit specific ribbon designs, etc.
Step 1: Determine whether your printer is a direct-to-card or retransfer printer.
Yours will most likely be a direct-to-card printer because they are the most affordable on the market; however if you're unsure. Please feel free to contact your sales rep via email or phone. 
Step 2: Determine the make of the brand. 
The name will usually be printed on the card printer itself. The main brands are usually: Entrust, Evolis, Fargo, Zebra and Magicard. 
Determine which printer is yours. Each brand has its card printer ribbons for each model of printer, and you must ensure that you purchase ribbons that are suited to your printer alone in order for it to work. 
We do not recommend purchasing a ribbon from another brand for your printer as it will not work or fit with your printer ribbon holding design.
Step 3: Finding the correct ribbon for you. 
Having acquired both your type and make of printer model, you can now determine what you want to be printed onto your cards. 
Ribbons can be purchased in different image quantities depending on your printing requirements. 
Ribbons can print 200-3,000 cards per roll. The larger the ribbon print size, the less the cost per print and the more you save on packaging and shipping costs.
Depending on your needs, we can help find the best ribbon for your needs. If you already have a printer, look at the range and see which one best fits your needs.
We have a team of friendly experts passionate about advising and assisting you with finding the ribbons you need to meet your needs.
To wrap it up
Your ID card printer can only use the ribbons from the make of your card printer. So when you're looking for full-colour or monochrome ribbons, make sure you're looking at ribbons that are compatible with your printer. This is the best way to find the printer ribbons for you and your company.
Easi-card makes it easy to find all the printer ribbons compatible with your ID card printer through our online shop. Search through the ribbons and find the printer most compatible. Our friendly staff can assist you when you need help. 
---