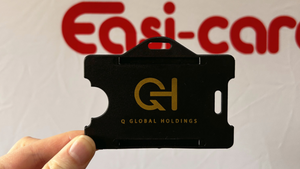 7 Reasons Why Plastic Card Holders Are an Essential Tool
As we go through our daily lives, we accumulate a variety of cards that we use for various purposes. These cards could be credit cards, debit cards, loyalty cards, ID cards, or business cards, to name a few. While carrying these cards around can be convenient, it can also be a hassle if they are loose and disorganised. That's where cardholders come in. They come in various sizes and designs and can be customised to meet individual needs. In this blog, we will explore seven reasons why cardholders are an essential tool. 
What are plastic cardholders?
Plastic cardholders are small, compact cases that are designed to hold and protect plastic cards such as credit cards, ID cards, and loyalty cards. They are made of durable plastic materials such as PVC, PET, or polycarbonate and come in various sizes, colours, and designs. Some plastic cardholders feature slots and dividers to keep cards organised, while others have additional features such as key rings or lanyards to make them easier to carry. Plastic cardholders are popular because they are affordable, lightweight, and can be customised with logos or designs. They are also waterproof, making them ideal for outdoor or wet environments.
At Easi-card, we can design cardholders however you may like. We have specific dyes that we use to mould our cardholders into the specific types we have, but they are customisable with logo branding if you'd like to stand out. 
What are our general favourites at Easi-card?
1. Clear badge cardholder (perfect for ID cards).
2. Twinprox frosted cardholders (can hold two cards).
3. Card caddy cardholders (can hold up to three cards).
4. Keyring cardholders (perfect for driver's licence). 
These cardholders will give you a general idea about what we sell and how you can customise it for your business. 
Now let's get into the real business of why cardholders are essential for your business. 
Organisation
One of the primary reasons to use a cardholder is for organisation purposes. Cardholders keep all your cards in one place, making it easy to find the one you need when you want it. It also eliminates the need to shuffle through a stack of cards to find the one you're looking for. Cardholders often have dividers or slots that allow you to separate your cards based on their purpose, making it easier to locate them quickly.
For example, if you work in a corporate environment and have both an ID card and a technology card. You can use the technology card to access the facility and show your ID card to the security guard. The ID card can be in the front where it is visible. 
In another instance, you can keep your credit cards in one slot and your ID cards in another. This feature helps you quickly find the cards and eliminates the need to shuffle through a pile of cards.
Protection
Another key benefit of using a cardholder is protection. Carrying cards lose in your pocket or purse can increase the likelihood of losing them, getting them stolen, or having them damaged. Cardholders are designed to protect your cards from scratches, bending, and other forms of damage. They also help prevent identity theft by shielding your cards from RFID scanners that can steal your information.
Plastic cardholders are especially beneficial in preventing the wearing down of magnetic strips on credit cards and identity cards, which can occur over time from regular handling.
Convenience
Cardholders are incredibly convenient. They are small and compact, making them easy to carry around in a pocket or purse. This means you can always have all your cards with you without having to carry around a bulky wallet. Cardholders also make it easy to switch between cards depending on your needs. For example, if you are travelling, you can easily switch from your credit card to your ID card.
Durability
Cardholders are typically made of durable materials; plastic can withstand wear and tear. This means they will last longer, providing you with a reliable and sturdy way to carry your cards. Unlike wallets that can wear out and need to be replaced regularly, cardholders can last for years, making them a smart investment.
Style 
Cardholders come in various styles, colours, and designs, making it easy to find one that matches your personal style. Whether you prefer a classic professional look or a modern and colourful design, there is a cardholder out there for you. Some cardholders even come with additional features, such as key rings, to provide even more functionality.
For example, you can personalise your plastic cardholder with your name or company logo, which gives it a professional look. Customisable plastic cardholders also come in different colours and designs, making them ideal for different occasions.
Environmentally friendly
Using a cardholder can reduce the need for plastic sleeves or envelopes often used to protect and store cards. Plastic cardholders are environmentally friendly, especially those made of recycled materials. They can be recycled and reused, which helps reduce waste and protect the environment. Using a plastic cardholder instead of a traditional wallet also reduces the need for leather, which is a non-renewable resource.
Cost-effective
Finally, using a cardholder can be cost-effective. While some high-end cardholders can be expensive, many affordable options provide the same benefits. Cardholders can also help you save money by preventing the loss or damage of your cards. By keeping them organised and protected, you can avoid replacing them and paying additional money. 
To sum up
In conclusion, card holders are an essential tool for anyone who uses multiple cards on a daily basis. They provide organisation, protection, convenience, durability, style, eco-friendliness, and cost-effectiveness. Whether you're a busy professional, a frequent traveler, or just someone who likes to stay organized, a card holder can help you stay on top of your game. With so many options available, there is a card holder out there for everyone.
For more information, please feel free to contact our friendly staff on the cardholder that best fits your needs. 
---