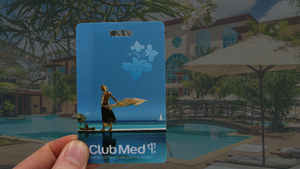 Which hotel key card is the best for your business?
Hotel key cards create an experience that you are away from your usual life routine. The best part about going to a hotel is using a card to get into your room and using it to switch on the lights. I don't know about you, but I find that pretty amazing; it makes the experience of being in a hotel much better!
Key cards are the best way to run your hotel efficiently. They can be re-used and re-programmed for every new guest and obtain more valuable information about your guest. You are enabling your business to meet their needs to any extent. 
Key cards are an eye-catching tool used to promote your business and are easy to carry around, great for your customers to use as a talking point to friends and family. 
There are so many great reasons why hotel key cards are the way forward, but which key card is best for your business? At Easi-card, we know that there are a lot of options out there. So, in this blog, we want to guide you to the best card that fits your business needs. 
Types of hotel key cards
Magnetic stripe cards
Magnetic stripe cards are incredibly familiar to most people. They are found in your debit, credit and gift cards. The black or brown magnetic stripe that lines the back of the card is where the technology lies. 
Usually, they are swiped so that a card reader can read the magnetic stripe, except when you use them for your hotel, you aren't authorising a purchase. Instead, you are opening a door.
Magnetic stripe cards have been around forever! They have become common among hotels, motels, inns, and resorts. Even after all this time, this technology is still effective and gets the job done. 
However, magnetic stripe cards can only hold a basic amount of information on the card about the guest. Including:
Room number. 

Check-in time and date.

Check out time and date. 
They cannot provide personal information about the person you can store in a database. 
The downside of magnetic stripe technology is that the cards can demagnetize and stop working in certain circumstances. To prevent this from happening, you can use key card holders or sleeves to help protect the card from the elements to ensure it lasts longer.
Even if the card has to be replaced because the card has been demagnetised, mag stripe cards are relatively cost-effective to replace. Providing you with an affordable alternative for your cards.  
Another downside is that these cards can be easily replicated with technology that can be bought online. If your guest is careless with their cards, they can easily be copied and used criminally to access their room. By having security-conscious guests, you can eliminate this issue. 
The card will stop working after the check-in time, and date has passed; it can then be reprogrammed for the next guest. 
Nowadays, hotels have moved to more sophisticated systems, requiring guests to present their card to the reader rather than swiping it. 
RFID Smart cards
Currently, these are the most used cards in the hotel industry. 
Smart card technology is a chip embedded in your card, usually found in your credit and debit card and other access cards.
RFID cards are also known as proximity cards or tap or contactless technology. This is a short-range card that the scanner can hold to grant access within a few centimetres.
Because a chip is embedded in the card, the guest can hover the card over the door reader and gain access, like when you pay for something and tap your card over the reader. 
RFID stands for Radio-Frequency Identification. That means the cards have little tags that communicate with a reader through radio waves. Eliminating the need to swipe the hotel key card system instead, hover it over the reader and be granted access, usually with a green light. 
Some RFID cards can be used as a hotel payment method, making it very convenient for guests to load money onto the card and use it easily. RFID smart cards can be used to access facilities other than hotel rooms, such as restaurants, gyms, laundries, etc., making it very convenient for your guest to get around. 
A significant advantage of an RFID smart card is security. Unlike a magnetic stripe card, these can't be duplicated easily. Once assigned to a room, they can just as quickly be deactivated remotely. Therefore preventing any criminals from entering unauthorised rooms. 
I'm sure you've had it before. Guests will come back from the pool and lose their cards. They will come to reception asking for a new one. You can easily deactivate the missing card and issue them a new one immediately. 
NFC cards
NFC cards have been increasing in popularity recently. NFC stands for Near-Field Communication.
An NFC card has embedded integrated circuits which can store data and communicate with an electronic device. The NFC technology allows the card to communicate without touching the hotel key card system. This is very similar to how the RFID system works. 
Like RFID cards, the cards don't have to be "swiped" for the card reader to receive access to the room; you can hover or tap the card over the readers. 
NFC cards can be read by your cell phone, providing more information about the hotel and your room number. NFC stores more information about the guest and can inform you where they have dined, what interests they have had in your hotel and what they have taken from your mini bar. These valuable points can be recorded on your system and used for essential marketing efforts for current and future guests. NFC is great for the guest as it opens more doors to them. By scanning the card with their cell phone, they can access the hotel's website and wifi and change the room's temperature if they'd like. Almost every smartphone is equipped with NFC, making it more user-friendly for your guest and a more incredible experience at your hotel! 
The best advantage of NFC cards is that they are more secure than RFID cards, and if replicated, they can be deactivated just as quickly. Ensuring that your guests feel safe and secure in your hotel. 
How do hotel key cards work?
Step 1: Guest checks in
The guest arrives at the hotel and checks in at reception. The receptionist will set up your room based on your booking and issue a new card for your hotel room. 
Step 2: Key card is assigned
Each hotel key card has to be reprogrammed after every use. The card is swiped blank of usage from the previous guest. Access is given to the new guest for their hotel room, gym facilities, restaurant, spa, lift usage etc.
The card will be activated for the time the guest has booked and paid for. If the guest goes over this time, the card will not work. 
Step 3: Key card unlocks the hotel door
When guests reach their designated hotel room, they will either swipe the card over the reader or tap it. Depending on which card they have. Instructions will be placed on the card for your guest to read, but they are usually self-explanatory. 
Both methods will scan the card, read the data and grant the guest access, unlocking the door. The whole process usually takes less than a few seconds.
Step 4: Cards provide power
In many hotels, a hotel key card will provide power to your room using a little reader next to the door. Hotels use this green initiative to reduce their power usage and provide a secondary usage for the card. 
Step 5: Check out card reset 
When the guest checks out of the hotel, the card is usually wiped entirely so that it can be reset for a new guest, before wiping the card, essential store all the vital information about your guest on your server or database. 
Cards are linked to any room in the hotel, so it is straightforward to reprogramme the cards and replace them if necessary. 
What are some of the benefits of hotel key cards?
Easier to manage
You can track and manage your access control system from a central computer or server where all valuable information is stored from every guest. 
You will have a record of who has access to where, what cards have been issued, and if they have been returned or are still activated.
This can be good in an emergency as you can unlock all fire or outer doors to provide a quick and safe exit. Knowing when to manage guests and check them out on time is also great. 
Cost-effective cards
With each card being reprogrammable countless times and holding a very low cost of manufacture, you can easily replace any cards you need to.
A card can be deactivated and reprogrammed quickly and easily if you lose it. Prevent any unwanted criminals from entering your hotel.
More secure 
Hotel key cards can be encrypted for each use to prevent cards from being cloned or copied easily. 
Hotel systems allow you to manually and remotely deactivate cards if a hotel key card is lost, stolen, or accidentally taken.
Which hotel key card is right for you?
Hotel key cards have certainly advanced over the years. They have increased in technology, security and ease. 
The best key card speaks to your customer, your guest. Whatever card meets their needs and improves their experience is best for you. If you're a small hotel like a boutique and only have a few branches, then a magstripe may be your best bet. You do not need such fancy technology for your guests, and you need something affordable that works. 
If you're a bigger company like the Hilton hotel franchise, Marriott international or intercontinental, I recommend using RFID smart card technology and NFC cards. These will integrate well with your systems, and you will have the budget to spend money on this more advanced technology. Guests will expect that you have advanced technology that meets their needs. 
It is up to you which card you prefer, but we offer these options.
To sum up
Hotels have a large number of people who check-in and out every day. Cards are a great way to make your hotel more efficient and your guest's experience wholesome. By integrating your cards with your hotel system, you will have a record of who has access to where, what cards have been issued, and if they have been returned or are still activated—allowing you to manage your hotel better and make it more secure. 
We have the right card solution for you depending on your hotel's issues, whether it be security, cost or efficiency.
If you would like some help deciding which card is best for you, please get in touch with us and one of our friendly salespeople will help guide you. 
---