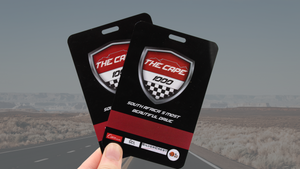 What are the different card sizes?
Did you even know there were different card sizes? We are here to tell you that card size makes a huge difference in every industry. 
Cards are used every day. We use them to gain access to our offices, to promote our brand, and they are used to show us who we are, provide us loyalty and gift points etc. 
When deciding on your card, it's essential to make sure you have the correct type of card. Blank white cards are typically used to print basic cards. However, for the more adventurous, we offer clear and frosted options. Cards come in a few different size options. Our range goes from smaller than a credit card to oversized cards. 
This guide will give you a breakdown of the most common card dimensions and whether they're the right choice for you.
If you want to print your card's size, let us walk you through it. If you are still uncertain after this article, get in touch with one of our experts. 
What sizes are available?
Keychain card (64mm X 98mm) - Small key cards are mainly used for loyalty programmes for groceries, fast food restaurants or spas and membership programmes for gyms. These are perfect pocket sizes for attaching to your keys, so they'll have no reason to get lost. 
CR80 (86mm x 54mm) – This is the standard card and the most popular size. Usually as big as a standard credit card size. People mainly use this card for business cards, loyalty or gift cards.
CR80 sticky back cards (86mm x 54mm) – This card size is slightly thinner and often used for access control. The sticky adhesive material is used to stick onto an access card.
Non-standard size – This is a much larger card dimension and can display increased amounts of information. People mainly use this for rule cards in the mines or events where information or people's names need to be displayed. 
Keychain cards
Keychain cards are small and compact. Many people enjoy the added convenience of a keychain card or mini card because they are compact and easy to carry around. Keychain cards are easily attachable to your keys, so customers will not likely forget them at home or in their wallets.
These small convenient cards are perfect for gym, spas or yoga memberships. They are also ideal for loyalty schemes for real estate agencies, fast food outlets, and grocery stores. So as you can see, they have multiple purposes and can be used in almost every industry. 
These small cards are perfect mini billboards, conveniently marketing your brand. Keychains become an ideal way to spread awareness about a product, service, or brand at half the price of other marketing efforts. 
Simple designs are usually the best because of the limited space on the cards. So long as the message is relayed to potential customers, the card has done its job. 
You can add a QR code at the back of the keychain card. QR codes are ideal for access to new product launches, discounts, special deals, seasonal sales, and more. Customers can scan these codes to get the details. Keep customers up to date about your services and what new things are happening in your company. You can also get important information about their purchasing behaviour. 
These small cards are packed with powerful information and are much more affordable than a standard card. Check out our range. 
Look at the different cards we have done to get an idea of what you are looking for. 
Standard CR80 cards
CR80 cards are the most popular market because of their various uses in any industry. The CR80 is the standard size for an ID card and measures 86mm x 54mm. It's precisely the same size as a standard credit card and is the size accepted by the vast majority of ID card printers.
If you have an ID card printer, this is the best card to choose if you print your own at the office or at home. 
This is also the size we most commonly use when photo ID card printing, along with it being the standard size for library cards, loyalty cards, hotel key cards, membership cards and more. CR80 cards are also very similar to the size of standard business cards.
CR80 cards can be produced in different types of materials and not just blank white PVC. We also provide transparent and clear PVC cards for those that want to be adventurous and make their cards stand out from the crowd. 
A transparent card is see-through; these cards make a statement because of their unique flair, like looking through a glass window. We recommend creating a design for the front of the card, not the back, because a double-sided design will overlap, creating legibility issues.
Simple designs are best for this card, where clear space tends to pop with this card—giving it a very clean look.
On the other hand, frosted cards are trendy in the card industry. Colours on a frosted card are much more vivid than on a clear card – reds and blues pop out from a frosted background! So if you want to make a statement and ensure your clients don't forget you, frosted cards are the way to go. 
Check out our range of cards to decide which card is best for you and your company. 
CR80 sticky back cards 
CR80 sticky back cards are designed to fit snugly onto the front of a technology card. The adhesive backing allows you to print an ID card on the sticky back and stick it onto the technology card. This is mainly done because ID card printers struggle to print directly onto technology cards, affecting your card's design and making it less professional. 
You'll find that quite a few access control cards using RFID technology are CR80 spec. These cards are usually more durable in harsh outdoor environments, making them excellent choices for frequently used key cards. Perfect for mines, hotel businesses and construction sites where people use cards all the time for access. 
Above is a youtube video explaining how to place a sticky back onto your technology card; this is a simple and easy process. 
Sticky backs will save your business time and money, reducing poor print jobs and wasted ribbons. Sticky backs are a quick solution for those that want to print on-site and have access to technology cards.
Other solutions are where we print your cards for you at our factory at a much higher quality (600 -1200dpi), where cards will come out as your desired quality. 
Non-standard sized cards
We call these our oversized card range. These non-standard oversized plastic cards are great for businesses that want to stand out from the crowd and make their information visible for everyone to see. 
These cards are much bigger than the standard CR80 cards. We have these available sizes A5 (154 mm X 216 mm), A6 (148 mm X 105 mm), A7 (115 mm X 100 mm) and Global (90 mm X 126 mm). Depending on what you want to display on your cards will determine which card size is best for you. 
The oversized plastic cards are ideal for events where their brand can be seen easily. A large printed name is easy to read and allows quick contact with other visitors. A large colour photo makes it easier to control check-in and secure the event.
We have found that the A6-sized cards are perfect for rules for mines; these large cards display all the essential information for quick responses to accidents, orders to follow and directions, making them easy to follow in case of an emergency. 
Where are these cards used?
Trade events.

Confrences.

Mines.

Concerts.

Sports events.

Presentations. 
You can personalise your cards by placing a: name, photo and position of the cardholder, variable number, barcode, QR code, signature strip or scratch panel. The card can be matte or glossy and have a hole or slot punch attached to it.
If you are unsure which card size is best for you, contact one of our specialists, who will be happy to point you in the right direction. Have a look at our range so long. 
Currently, there is no desktop ID card printer on the market that supplies oversized cards, so that we would print your cards in the factory. Printing in our factory would produce high-quality cards with 1200 dpi so that you will get crisp images and bold text on your cards. Enquire more by contacting us. 
What about card thickness?
Cards are produced in multiple thicknesses. ID card thickness is measured in microns. The micron of a plastic card is measured in microns. A typical bank or ID card is 760micron or 0.76 mm. 
Most ID card printers have card adjusters that allow you to change the card thickness by a few inches, so you shouldn't run into any issues, even if using thicker cards or printing thinner cards than the standard thickness. We advise that you ask your salesperson about how to change this, and our support team will get in contact with you. 
460micron or 0.46 mm is a much thinner card. People choose thinner cards because they can easily fit into wallets and use less plastic. Thin cards can also produce more at a lower cost. However, standard card thickness produces more durable cards that will last longer, so thin cards will not last as long as the standard cards.
Depending on how long you want your card to last will determine which thickness you go for. Speak to our professionals if you are still unsure which card thickness to choose. 
Does card size matter?
In short: yes, it does. Each is suited to a different purpose with different sizes to choose from.
Card sizes are also important in ensuring cards are compatible with card holders. Whether you already have card holders or are looking to purchase new ones, you must check if the size of your ID cards is suitable. 
Cardholders are extremely useful in protecting cards from wear and tear and also help to stop cards from fading and getting damaged or lost. Contact us to determine which card holder is suitable for your cards if you are unsure. 
You can attach a lanyard or badge clip to your card if you do not want a cardholder. Lanyards and badge strap clips are perfect for oversized cards. Bage strap clips are easily attachable by slot punching your cards, done at an additional labour price. 
Another reason your card size matters are that cards must be able to fit into your card printer. As mentioned earlier, checking if your card dimensions are compatible with your ID card printer is crucial, especially if cards are a specific size. ID card printers only print CR80 card sizes, so producing any other sizes will have to go through our factory. 
To sum up 
Out of all the card sizes, the CR80 card remains the most popular, the size of a standard credit card. However, this doesn't automatically make it the best for you. The most suitable card size will be determined based on your industry, and we are here to help. 
We know how frustrating it can be when so much information is out there, and you have no clue where to begin. This blog aims to guide you on which cards best suit your needs. 
If you have any more questions or need more help, feel free to contact us, and one of our friendly staff members will be in touch. 
---