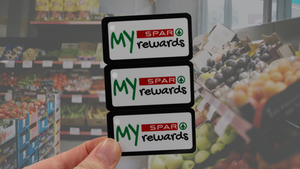 Five reasons why your business should be using plastic keychain cards
Plastic keychain cards are small and personable cards that can be easily attached to your keys. They are great cards for promoting your company as everyone carries their keys everywhere.

Plastic keychain cards are perfect for everyone, no matter how big or small your business is. Many companies use keychain cards as an ideal way to promote their brand.

Plastic keychain cards are perfect for membership, loyalty programs, and other card applications. However, they fit any industry that wants to get their brand out there.

Now do key tags help grow your business? Here are five reasons people prefer to use keychain cards instead of ordinary plastic cards. At Easi-card, we know how effective these small key cards can be; we're here to share our wisdom on why they will work for your business!

Where are plastic keychain cards used?

Plastic keychain cards are perfect for loyalty or membership programs.

Industries that are using plastic keychains:


Gyms
Restaurants
Grocery stores
Retail stores
Rental agencies

These industries love the small, easy-to-use systems used on a keychain card, including barcodes or simple QR code systems.

Convenience

Many people enjoy the added convenience of a keychain card or mini card because they are compact and easy to carry around.

Keychain cards are easily attachable to your keys, so customers will not likely forget them at home or in their wallets.

Boosts your brand
Handy, attractive keychain cards are, in fact, miniature billboards that have a broad reach. When customers attach them to their keys, these cards go everywhere.

We have all seen them do it; people in restaurants tend to place their keys on the table. Let's be honest, mainly to show off the car they own. And then Dave will ask Brad, "bru, what gym is that on your keys?". Brad will tell his friend about this new gym he has joined, leading to a sign-up from Dave shortly after.

Keychains become a perfect way to spread awareness about a product, service, or brand at half the price of other marketing efforts. Without knowing it, a new customer is on board because their friend joined a membership.

A neat design displaying the company logo and names is everything needed to convey the message. Simple designs are usually the best and work more effectively with customers.

Collect valuable marketing data
Keychain cards can collect valuable data from their customers. Bar code systems and QR code systems in grocery stores can reward regular customers, understand their buying behaviour to better sell to them in the future and understand their geographical regions for coming to specific stores.

Similarly, a gym can use this valuable data to understand where their customers are geographically to see how far they travel to visit them. They can plan their next location based on where people are in the area. Gyms can also see how often a person comes to their premises and what activities or classes they are interested in to create better facilities for their members in the future.

QR codes are ideal for access to new product launches, discounts, special deals, seasonal sales, or even to keep customers informed on the latest news about the company and its offerings. Customers can simply scan these codes to get the featured details. Keep customers up to date about your services and what new things are happening in your company.

QR codes provide data about what customers are interested in, creating a great way to sell specific items to specific customers.

This valuable data helps businesses like yours to make practical decisions for your company in the future that your customers need.

The power of the small keychain is more significant than you think.

Of course, the POPI act is on course nowadays. But if members sign up for your membership and agree to share their data with you, and your business is transparent, it will benefit you and the customer.

The customer will get news of new discounts and products that interest them, and your company will get valuable information that allows you to build a beneficial relationship with your customer.

All in all, it's a win-win situation.

Cost-effective
Keychain cards are affordable for small and large businesses. Material is locally sourced in South Africa, giving your company an affordable price.

Custom designs digitally printed on small plastic cards are affordable, based on what design you'd like on your card.

These small cards easily experiment with patterns and colours digitally before printing them. At Easi-card, we ensure that you see the final product before we print them at our factory so as not to make a mistake.

Design services come at a fee, including database design and artwork design. Artwork is R450.00 per hour, and Database design is R800.00, but it is unlikely that you may need a database design on a small card.

You can easily design your card on Canva using the size of an individual keychain card of 1-1/8″ mm x 2-1/8″ mm. Please remember to keep space for the round slot hole placed on your keychain, usually on the left-hand side of your card. Remember, the slot hole is 6mm in diameter and 7mm from the side.
Made quickly for your convenience
Keychain cards are quick and affordable. Designs take up to 14 business days to be delivered. Allowing businesses to create new content and develop new keychain cards that customers notice. Keychain cards are easy to customise.

Key cards work well with loyalty rewards and other incentives. Companies can give away key cards, enabling customers to share them with friends and families and sign them up through word of mouth. Giving them away proves rewarding, especially for small retailers and self-employed professionals looking to market their services.

To sum up
Whether you're looking to promote your business, upgrade the customer experience, or earn data from your customers, keychain cards have you covered.

Easi-card has a solution to promote your business in a cost-effective way. Get ahead of the marketing curve and purchase yours today online!

For more information about our keychain cards, please contact us; our sales rep will be happy to help.

We want your company to succeed; above are a few tips to help that dream come true!
---