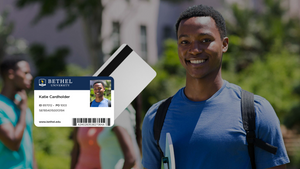 How can you secure your campus?
South African universities are enrolling more and more students every year. This is a promising statistic for our country and is expected to increase over the years.
However, more students enrolled means the need for more student ID cards and the need for better security measures. 
Implementing an ID card system as a way to improve campus security and safety is a cost-effective and easy solution. 
It's a simple yet effective way to keep your campus safe knowing who is in the building at all times and being able to verify their identity if necessary. 
The technology also remains useful for many years without needing to be replaced, thus saving your campus money. 
Next year will be different from the rest. The pandemic has slowed down and more students will be returning to universities. They will need more student cards and will have to access facilities safely. 
The question is, are you ready for the new year? 
If not, we're here to help. 
What is a student ID card?
A student ID card identifies who the person is, it helps monitor student accounts and allows students access to certain areas within your campus. 
Identifies them as a student.

Allowing them to access and borrow from the library. 

Provides printing credits. 

Allows them access to buildings and facilities, including after hours. 

Confirms their identities at exam venues.  

Allows discounts on some tickets (e.g. movies). 
Because of this, a student ID serves as the most powerful tool that you have at your disposal. 
To maximize the benefits of student ID cards, you must fully understand their benefits and how they can function for you and your campus!
Here are seven things that you must know about them
:
There is more than one type of encoding technology you can use to secure your campus.
Student ID cards are no longer simple picture IDs for universities. 
They can be embedded with any type of encoding technology. Including integrating a smart chip, magnetic stripe or RFID technology into your students' ID cards.
By doing so, you can allow your students to utilise printing facilities etc. and access facilities without having to visually show their IDs every time.
Different types of cards:
Departments and facilities on campuses typically use one of three types of access cards.
Proximity (prox) cards

Magnetic stripe cards

Smart cards
These secure doors, buildings, elevators and important rooms. The cards may look the same, but the technology driving them is very different.
Prox cards
These rely on older technology. Meaning that the security on the card is not as secure as newer ones are. 
They can be made in different materials including tags, cards, or key fobs but they all work in the same way by being held near a card reader.
These cards can be copied or cloned by devices that are easily accessible on Takealot and many other sites. Therefore, making it easy to clone your cards and gaining access to areas that were once prohibited. 
Although these are cheaper solutions, they may not be the safest option.
Magnetic stripe card
These work by swiping a magnetic stripe through a card reader like the stripe on a credit card. 
They are one of the oldest forms of access cards and offer minimal security because they can be copied very easily. 
They provide easy access and can be paired with a keypad to make access more secure. This two-factor authentication module is more secure as you have to swipe the card and key in a pin. Only specific users will be able to access your facilities making them much more secure. 
This is more costly but cheaper in the long run if you had to replace all of your readers.
Although some college campuses and universities still rely on legacy technology such as magnetic stripe or prox cards, more are migrating towards smart cards. 
This is the most recent improvement in the access control card market.
Smart cards
Smart cards were developed to be hard to duplicate. They are more reliable than magnetic stripe and prox cards, and with an increasing demand for security solutions, this technology has grown, especially in higher education. 
Many universities are on the journey to smart cards since they are more secure and more difficult to clone than prox and magnetic stripe cards
With an embedded integrated circuit, smart cards are capable of writing data, as well as reading it, which means universities can issue one card to students and staff members. 
The card can then be programmed for multiple applications, such as identification, facility and resource access, cashless vending, as well as dining and laundry.
The card has multiple uses and makes the life of a student, staff member and visitor more enjoyable on campus. As well as making them feel more safe and secure. 
The quality of the picture on a student ID card matters a great deal
We cannot stress enough the value of investing in a high-quality student ID card printer. A low-quality student ID card, for example, will make it more difficult than necessary to properly identify a student, visitor or staff member. 
If anything, it is a security hazard to have a poor quality card printer. 
To ensure that there is no confusion, always use the highest quality printing capabilities available to you. 
Our DS2 Sigma card printer is the best for the job. It is both cost-effective and produces high-quality images with the luster colour ribbon. Creating colourful, stunning card designs. 
Our Logitech web camera will produce crisp, quality images that is easy to set up and use within minutes. 
Additionally, the specialty ribbon includes additional security features that can protect your card from being tampered with or counterfeited. Making sure that your university does not have any unwanted visitors entering your campus. 
A double-sided student ID card is much more effective
A student's name, the name of your university and the year should not be the only information included on their ID card. 
You should include as much useful information as possible on the card. For example, your university's website, campus security information, contact information for a lost student ID card and a full student ID number should always be included. 
However, it can be difficult to provide all of this information on a single-sided card without making the information unreadable. 
By printing on both sides of your ID cards, you can ensure that you effectively include everything that you need to. Providing an informative, professional design that you will be proud to have.
The DS2 and DS3 Sigma card printers both have double-sided capabilities. Ensuring that your information is displayed beautifully on one card. 
It is also important that you include more security measures. 
Tactile Impression Printing
The DS3 Sigma, direct-to-card printer has something that the competition doesn't: its one-of-a-kind tactile impression customization. 
The tactile impression is a module found in the printer that increases the tamper resistance of your cards. Making them more secure and nearly impossible for counterfeiters to duplicate these cards. 
An imprint is made with the tactile impression die, directly onto the surface of your ID badges during the card printing process. This is a simple and convenient add on to protect your cards from thieves. 
Best of all, you only pay for the tactile impression die once and it is unique to your campus. No other person can get ahold of this special tactile impression (die) but you. 
No special consumables are needed to produce secure, professional-grade ID badges except the standard cards and ribbons you'd normally need to purchase for your printer. Meaning that the cost is affordable and necessary to secure your campus!
Watermark
This custom unique built-in card security feature is found on the DS2 Sigma card printer. 
The card printer prints a secure watermark on a card's surface without any added costs. Here you can customise the watermark to be your campus logo or a special feature. Making it unique to your campus and virtually impossible to replicate.
Watermarks are printed during the normal card printing cycle using the "O" panel of a standard colour ribbon, so there's no need to purchase expensive holographic lamination. All consumables are included with your purchase. 
The watermark becomes visible when the card is viewed at an angle. Visually showing the holographic image of your campus logo or feature. 
The watermark can easily be enabled or disabled in your printer driver. Making it easy to print normal visitor cards when necessary. 
The custom image you use for this watermark is encrypted and electronically stored on a custom key, preventing the threat of card duplication and further strengthening card security. 
This is a cost-effective way to ensure that your campus is safe and secure. 
You must be paired with custom badge accessories 
With an increased number of students, staff and visitors being required to use and wear their ID badge credentials throughout the day, cards can easily be lost or stolen.  
Customized lanyards and cardholders are a great method for instant visual security.
These high-quality custom accessories can be imprinted with your university's name, logo or mascot. Additionally, variable colours can provide an at-a-glance identification of a student, visitor, or staff member, even if their card is not immediately visible. 
For additional safety, universities tend to choose breakaway lanyards. The breakaway feature is uniquely designed with two sturdy plastic clasps that easily snap together. It automatically separates under pressure and/or physical stress and pulls apart, reducing the risk of choking if it is pulled. 
These attachments are great to ensure that your student cards, staff ID and visitor badges are safe and easily accessible when needed. 
Visitor badges are important security measures 
Visitors are an essential part of any university. Guest speakers and staff fill-ins are normal. These people need to be catered for and understood why they are there. 
However, welcoming those visitors shouldn't come at the expense of campus security. 
Universities should process visitors differently from the way they process staff and students. For example, staff and students may only be required to show their identification cards to a security officer or use smart cards to access buildings. 
Visitors, however, should have their names and the date/time of visit recorded upon arrival and go to the admin building to receive their identification information and printed card.
To differentiate you can give them different accessories and provide an expiry date on the card so that they are unable to use the card again. You can also choose to customize your lanyards by colour coding them with your university name, logo or mascot. 
Badges are a cost-effective solution. They can be placed on clothing with an adhesive back or a badge clip. 
Keeping visitor records helps provide valuable data of an event or an incident. By processing guests in a visitor management system, you can review visitor logs in the event of an incident (like a theft) or have a record of who was on-site in the event of an emergency evacuation.
These are a must-have and will help secure your campus. 
Make sure that your student ID card printer can keep up with all of your needs.
If you have 30,000 students or more, you should be able to quickly print ID cards to all of them straight away. You do not want your students waiting in long lines for hours on end. 
This may seem like a daunting task, but with the right procedures, ID card system and ID card printer, you will be more than capable of getting the job done.
Whether you need rapid smart chip encoding, double-sided printing, thousands of ID cards printed per day or anything else, there is an ID printer that can do it, and we are here to help you find the right card printer that suits your needs. 
You will never need to settle for a card printer that doesn't do everything you need it to.
If you are still unsure of which card printer is best for your campus, contact us for more information and one of our happy salespeople will be glad to help. 
Conclusion
Every university is different. Because of this, we suggest a multi-level approach where multiple different security features are included to provide the ultimate protection of your campus. 
No single security feature can guard against every attack. 
There is a card printer out there that meets all of your needs and we are here to help you find the best one. 
The cards you chose will reduce the amount of stress caused by the start of the new academic year and will help secure your campus. Allowing your staff, students and visitors feel more comfortable and at home. 
For more information please visit us. 
---