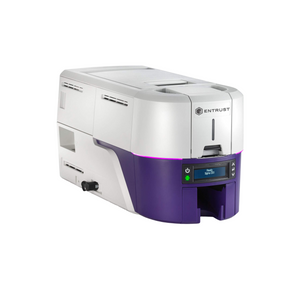 DS1 card printer support
The DS1 card printer is an entry level card printer. Meaning that it is easy to use and does not have any fancy technology. No mag stripe or smart cards are used in this machine, only blank cards. 
It is a perfect card printer if you are looking to produce basic ID cards with no technology embedded in them. This printer is much more affordable than the others and is just as important. 
This printer is great for small businesses who need to print a small amount of cards for their employees, students or visitors etc.
You can only print a few cards at a time as it only prints on one side of the card. If you want to print on the other side then you will have to manually flip the card over. 
Compatible ribbons:
Monochrome black ribbon - prints up to 660 cards per hour 
Full-colour ribbon - prints 175 cards per hour
As you can see having a monochrome ribbon allows you to print more cards much faster. 
The DS1 is a very basic printer and easy to use. It is important to wear ID's because security officers will know that you are where your supposed to be. It reduces the amount of criminals that enter your building and makes your environment safer for all. 
Follow along in our videos below: these are the same videos as the DS2 because it is operated the exact same way.
Click here to find all of the support videos. 
---