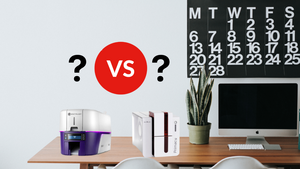 Ultimate guide: choosing the right ID card printer for your business
Ultimate guide: choosing the right ID card printer for your business
Finding the right ID Card Printer for you business is no easy task. There are many questions you need to consider, such as:
Do you need to print dual-sided or single-sided?
How many cards do you need to print?
What type of cards do you need?
Do you need a direct to card or retransfer printer?
Do you need to print offsite through a network?
Do you require special security features?
There are a host of technical terms and acronyms that you would need to know to answer these questions, and let's face it, nobody got time for that.
Fortunately, we have been in the game for over 28 years and have been asked these questions time and time again. We have had the time to understand and answer these questions in way that we can all understand.
Below is our gift of wisdom to you.
1. What's your budget?
The best place to start is to decide what your budget is. How much are you willing to spend to create the ID cards you need? This will help you narrow down what card you need and what printer is right for you.
If you would prefer we help you choose, please contact us here. To learn more, keep reading on…
2. What type of ID Card do you want to produce?
The second question you need to ask yourself is what type of ID card are you looking to print? This question is more technical than the last. We have provided a guide below to help break it down.
There are generally four different types of ID Cards:
PVC
Mag-stripe
Smart
Proximity
Each type has different uses. To make it easier for you switch between the tabs below to understand what they do:
PVC Cards
These are blank cards with no internal technology imbedded, such as an RFID chip. You can use them to create:
Membership cards
Student ID
Medical ID
Employee ID
Mag-stripe cards
Technology cards with a Hi-co or Lo-co magnetic stripe. They are swiped for entry & access control systems. You can use them for:
Time & Attendance
Lunch programs
Library cards
Credit cards
Access control
Smart cards
Technology cards with an embedded chip with accessible memory and a microprocessor. You can use them for:
Network security
Vending
Meal plans
Loyalty programs
Transit cards
Electronic cash
Proximity cards
These are printable, credit-card sized cards and feature an antenna and electronic chip "sandwiched" between two thin plastic cards.
School facility
Government organizations
Businesses
Corporations
Once you have chosen the type of ID card you need, the next step is to match it with the correct Card Printer that is capable to print them.
3. What ID card printer matches your budget & printing requirements?
Now that you know what ID Card type you need, it's time to see what ID Card Printers have the capabilities of printing them for you and which one fits your budget.
Switch between the tabs below to see what ID card printer matches your printing needs:
Elementary desktop card printers
If you're looking to produce based ID cards with no technology embedded, you do not need anything too fancy.
Best choice is an elementary direct to card card printer listed below:
Mag-stripe compatible card printers
Most elementary card printers are able to print on mag-stripe cards. See below what we stock:
Smart card printers
Proximity compatible card printers
Let us know if you need any further assistance with choosing a card printer, we are here to help!
If you've made your choice, head on over to the menu located at the top of this page and browse our plastic card printers.
---