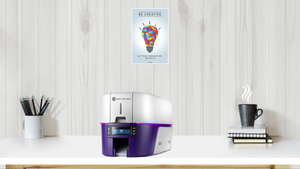 Tips to maintain your DS card printer
Let's be honest, cleaning your card printer is not on everyone's priority list when you're at the office. But we are here to tell why it is so vital. 
Cleaning your ID card printer is crucial to extending the life of your printer and prevents you from having to take it in for repairs every six months. We all know how expensive card printers are and having them damaged just adds to the extra stress and unnecessary costs of your office. 
So taking a few minutes to clean your card printer is not so bad, right? If you're not convinced yet we are here to tell you more. 
Why does your card printer get dirty?
Printers are not sealed properly and are usually left in offices that are not always clean. Allowing a lot of dust and debris to be captured in the printer. It makes it quite difficult to clean the printer when it has been left for so long in a dirty environment. 
This leaves you to do a thorough deep clean which is longer than a few minutes. Wasting your time and your muscles energy. Instead, you should clean the area around your printer regularly to maintain a dust-free zone.
When touching the card printer our hands may be oily or dirty and this will transfer onto the card printer and make it filthy. It is so important to clean your hands before touching the printer or wearing gloves when handling your cards. 
Invisible fingerprints can result in faded graphics and poor print quality because the ribbon cannot print clearly onto your card. Keep your cards sealed in their packaging before you need them and if you have leftovers make sure to seal them properly in a clean environment before using them again. 
Additional tips for maintaining your DS card printer
Clean your printer regularly:
Your card printer is a huge investment and it is necessary to maintain it regularly. Just like a car that needs a yearly service, your printer needs to be serviced as well. But on a much more regular basis. 
Use manufacture approved cleaning kits:
When cleaning your printer make sure to use all of the Entrust cleaning supplies and do not defer to any other card cleaning kits. Your printer will only use the DS card printer cleaning kits. 
Make sure to use PVC cards:
Use PVC cards that are at least 760 microns thick. This will ensure that you have a higher quality print and your cards will last much longer. These PVC cards can withstand the extreme temperatures of your DS card printer and thus will not warp easily.  
Cleaning your card printer
With the DS pack, you get a cleaning kit that comes with your card printer. This makes sure that you have all the necessary cleaning equipment to clean your DS properly and maintain it. 
In the box you will get:
1x cleaning card 

1 x ribbon 

1 x cleaning swab

1 x cleaning roller
This is so important to maintain your printer and prevent it from getting damaged. 
When should I use a cleaning card to clean my printer?
1. When you replace a ribbon.
Ribbons are usually used up after 500 card prints and need to be replaced to give the rich quality cards that you expect from the DS range. 
2. You have printed 250 cards on your card printer.
Cards are static and they attract a lot of dust and debris. After 250 cards, your printer would have collected some of this from the cards. Make sure to clean your card printer.
Please remember to replace the cleaning roller as well, especially when it is no longer sticky.  
3. The quality of your card has diminished (there are lines or dirt on your card after printing).
Do you ever get black specs or discoloration on your cards? Your printer probably just needs some love and a good clean. 
When should I use a cleaning swab to clean my printhead? 
Your printhead is the most expensive part of the machine to replace and damages the rest of the printer if not cleaned properly. 
1. When the printhead has been replaced.
If your printer has gone in for repairs, you must give it a clean before you use it again. 
2. When lines are being printed on the card.
Lines are a clear indication that there needs to be some cleaning. 
3. When the printhead has been touched by oils or dirty from your hands.
As we have said, your hands are dirtier than you think. Please wash your hands before touching your printer or use gloves. 
4. When you have printed 250-500 cards on your DS.
Remember to replace your cleaning roller as well and remove the protective wrapper. 
How do you know it is time to clean your DS card printer?
The display panel will show an error message 294 meaning that the printer wants you to insert a cleaning card into the card printer so that it can be cleaned.
You can manually set this error message up after you have replaced a ribbon or printed 250 cards by going onto your printer dashboard. Watch this video to see how to do it. 
Your printer will alert you when to do a clean for the printhead by flashing amber LED light and will prevent you from doing any more prints. It is important to use a new cleaning swab every time and not re-use the same old one. 
While you are cleaning the printhead it is important to replace the cleaning roller and use a cleaning card to clean your printer. Just to make sure that you have cleaned your printer :). 
How to clean your printer?
Cleaning rollers:
Adhesive cleaning rollers are sticky and need to be replaced on occasion. This sticky material collects dust and debris from the cards as it rolls through the ribbons and makes sure that the card is cleaned thoroughly before it is printed.
Remove the printer cartridge from your printer. Remember to wash your hands or wear gloves during this process. Remove the old non-sticky roller from the printer cartridge and replace it with the new one. Allow for the roller to be clicked in by sliding up the yellow clasp and inserting the roller in. Remove the adhesive white wrapper and place the ribbon cartridge back into the card printer. Close the printer cover. 
We believe that the cleaning rollers should be replaced after 250-500 prints or when you can feel that the roller is no longer sticky.
Once you see that your cards are being printed with dust or dirt on them, you will know to replace your roller.
Cleaning card:
It is important to insert a cleaning card when your LCD panel flashes amber and displays the error number 294. Remove the printer cartridge from your printer and close the printer cover. 
Remove the cleaning card from the packaging and insert it into your input hopper. Press the LCD panel and follow the prompts to issue a cleaning card. 
Press the user button to get rid of the error message.

Press the enter to access the menu

Press enter for maintenance 

Press enter for the cleaning card

Press enter to start 
The cleaning card will be ejected out into the output hopper and your printer is not clean. 
If you are confused please watch this video. 
This cleaning card cleans the rollers on the inside of your card printer. It also cleans the input and output hopper rollers thoroughly. These need to be cleaned from time to time because your card printer collects dust and debris from its environment. 
Cleaning swab:
A cleaning swab is important to clean your printhead. Remove the printer cartridge from your card printer and shut your printer down. Remember to close your printer cover. Allow for the printer LCD panel to go completely blank before you proceed to clean.
Gently remove the cleaning swab from the wrapper and place it on the printhead, moving it side to side and removing any dirt from the printhead. Please remember not to forcefully press on the printhead as it is quite easy to break. 
Please watch this video if your office environment is very dirty and you need a deep clean. If you are worried about damaging the printer and being too forceful, please contact us. And we will make sure that your printer is cleaned thoroughly and properly. 
Please follow this video to see how to properly clean your card printer with a cleaning card and a cleaning swab. 
As a result, if you follow these instructions and clean your printer regularly, you will have no issues and your printhead will not get damaged.
There will be no unnecessary stress of repairing your card printer and your boss will be ultra happy with you not spending extra business money. 
At Easi-card we want to make sure that your business gets the best help they deserve and need. That is why we are here to help and support you. We know how expensive card printers can be and we want to help you prevent any unnecessary costs and repairs. 
For more information please send us a quote: sales@easi-card.co.za or contact us directly on 011 487 1536. 
---