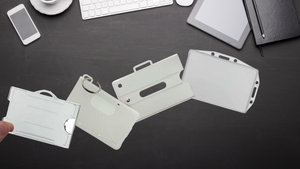 The ultimate cardholder: the best cardholder for your business
The ultimate cardholder: the best cardholder for your business
Finding the best cardholder that meets your business needs can be difficult when there are so many to choose from. 
We've all been there. Having too many choices makes you not want to choose any at all and probably end up crawling into a ball. 
The pandemic has made us very cost-conscious and we know businesses want to save money. 
That is why we'd like to show you how cardholders can save your business a lot of money whilst stay secure. 
Tough times call for tough measures and our cardholders are up for the test. 
Follow along to see which cardholder best suits your business needs and wants. 
Firstly you will understand why cardholders are essential to your business and its needs. Secondly, a video will explain which cardholder is the best for you and your needs. 
Why are cardholders essential?
Most importantly, card Holders are not something you may think of on a daily basis but we all need them to protect our cards.
Here are some reasons why your cards need protection and why your armed cardholder is the right guy for the job.
Cards VS cardholders
| | | |
| --- | --- | --- |
| Function | Cards | Cardholders |
| Durability | Lasts between 2-5 years | Lasts 10-15 years |
| Use | ID access & proof  | Protection of your card |
| Payment | May have to keep reprinting & paying due to people losing their cards. | Once off payment. Not likely to get lost & is cheap to replace. |
| Safety | Loose cards will get lost easily if not consciously looked after. | Safe & secure. Can be used with accessories and reduces loss. |
You will be surprised about what some employees use their cards for. 
Issuing officers have many interesting stories to tell of employees coming in to replace their employee IDs. 
Endless excuses of cards being lost/stolen, cards split into layers because they were used as ice scrapers or warped by being left in the sun for too long. Cards are put through the laundry and never look the same again. Human error is your biggest enemy. 
Reprinting costs money and can be expensive if your employees are careless. 
Ultimately cards are not a long-term solution for your business. You need something to protect them so that they last longer through any tough terrain your employees may put them through.
Cardholders are your very own corporate ID bodyguard. They are tougher than tough. It's like having your own personal bodyguard.
What cardholder is the best for you? 
| | | | | | | | |
| --- | --- | --- | --- | --- | --- | --- | --- |
| Type | No. of cards | Colour | Landscape | Structure composition | Flexibility | Main usage | Accessory compatibility |
| Keyring | 1 | Frosted | Horizontal | Polypropylene | Flexible (without bending/ breaking) | Drivers licence, fuel card & medical aid card. | Keys or whistles. |
| Card caddy | 3 | Clear | Horizontal & portrait | Polypropylene | Flexible (more durable) | ID & access control | Shoestring lanyard, crocodile clip & PVC badge strap |
| Clear badge  | 1 | Clear | Horizontal | Polycarbonate | Rigid (will not break easily) | Student, employee & access card | PVC badge strap or cord lanyard |
| Luggage | 1 | Frosted | Horizontal | Polypropylene | Flexible (protects cards on all sides preventing breaking) | Access cards, student & employee ID. | Luggage loop, PVC badge clip or swivel hook lanyard. |
Moreover, 
If you are trying to keep costs down with maximum use. We recommend you use the card caddy. You can fit up to 3 cards in it and it can be held both vertically and horizontally. You can attach many accessories to it, giving you an all in one experience. 
If you are looking for something convenient. Like attaching it to your keys. The keyring cardholder is the best option for you. Holding only one card it's great to keep your important (drivers license, fuel card or medical aid) cards handy. 
If you are a corporate business needing a student, employee or access card the clear badge cardholder is the best option for you. Visibly accessible for security reasons making it super convenient. 
If you are looking for something convenient to take your access, student or employee ID card out of then the luggage cardholder is the best option for you. The finger slider makes it easy for employees to remove their cards without having to fumble around to get the card out.
Durability & cost
Aren't you tired of buying consumables to print cards every time your employees ask for a new card because it's lost or stolen? Because more costs aren't good for business.
With cardholders, you do not have to keep on buying consumables for your printer to reprint cards (ribbons, cleaning swabs and cleaning kits). As a result, this wastes your time and money and could damage your business. 
Your employees can keep their cards for a prolonged period of time with the protected case of the cardholder. This ensures your card is protected from the elements and prevents your employees from losing it. 
It Increases your card's lifetime up to 2 or more years. 
| | | | | |
| --- | --- | --- | --- | --- |
| Type | Drop test 10 times | Freezer test 10 hours | Food & water test | Heat test. Left in the warming drawer 5 hrs. |
| Easi-card cardholder | Perfect condition. | Perfect condition. | Dirty but perfect condition. | Perfect condition. |
| Imported cardholder | Scratches, dents and damage. | Perfect condition. | Water damaged cardholder. But still in working condition. | Moulded and damaged. |
Accessibility & convenience
Having cardholders around your employee's necks or attached as a badge on their shirts ensures a smoother access experience. 
Therefore, they do not have to fumble in their wallet or bag to find their cards, wasting your valuable time as an employer. 
This reduces the stress and worries of your employees, allowing them a much more pleasant experience going to work.
Increased security & branding
Employees are easy to identify, ensuring everyone in the building is meant to be there. This reduces the risk of criminals entering your building. 
Above all, your safety and the safety of your employees is very important and these protocols need to be implemented to ensure a better environment.
Your holder includes your slogan, logo and names which helps promote your business. 
Potential clients will be able to recognize who's in your business to assist them. For example, it is a more pleasant experience for clients to know who your employees are without having to run around the whole store asking for help and embarrassingly asking someone to help who does not work there. 
I'm sure your clients will agree. There is absolutely nothing worse and they will probably leave your store not finding what they needed being upset with your poor customer service. 
It also boosts your employees' confidence as a sense of belonging to your company, enabling them to be a proud part of your cause. 
Compatibility
Card Holders are good attachments to other accessories. 
For example, cardholders are compatible with: 
Lanyards
Clips
Loops
Pins 
Key rings. 
These are all things Easi-card supplies at an affordable price according to your business needs. 
These are great for the convenience of your employees. Making it easier for them to handle around their necks or on their shirts.
Conclusion
In short, cardholders provide your company good value for money, great quality, increased convenience and security. 
We hope that with this ultimate guide you are easily able to choose the cardholder that best fits your company and its needs. 
However, if you are still unsure of what the best cardholder is for you. By all means, please contact us for more information. We'd be happy to help and guide you along your cardholder journey. 
Easi-card strives to provide you with affordable and easy solutions accessible to all. 
We want to save your business money. 
How can we help you? 
Please write your comments below on anything you may be struggling with. Our team is happy to help :). 
---