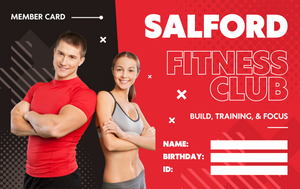 How to design a PVC card on Canva!
Creating your PVC card design can be daunting if you do not know the first thing about design. Often design software is expensive and impossible to learn.
Canva is a free design software that is easy to use for anyone without graphic design knowledge.
At Easi-card, we want your card experience to be a good one as well as an easy one. We have created free templates for you to use and design for your unique business. 
Browse through our design templates of printable ID cards, membership cards or visitor templates and find a professional and creative design that you can personalise to match your brand or business.

Add your company logo, branding, colours, fonts, and images to your ID card. Afterwards, you can print or share your ID card in digital formats or print your cards directly to your card printer. Personalising an ID card is as simple as selecting a template, editing, and sharing.
You'll see how easy it is to create your design within minutes! 
What is Canva?
Canva is a free-to-use online graphic design tool for creating social media posts, business cards, presentations, posters, videos, logos and more. Canva's vast array of features allows you to edit photos without extensive photo editing knowledge or experience.
This easy-to-use graphic design software is free, and you can log in using your Google Account. 
However, some features and templates in Canva are pro versions meaning that you will have to pay a premium price to access them. But in our opinion, this is a handy tool if you own a business. This affordable design software can be learnt within a few minutes and is user-friendly for anyone. 
Not only can you design cards, but you can also design everything necessary to market your company. It's well worth the purchase. 
Canva allows you to create all your marketing information in one space, and it helps you build your brand. With the pro version, you can create a brand kit where your company's logos, colours and fonts are found in one place, making designing much easier. Simply click the brand kit on the template you are working on, and it will populate all your company's colours, fonts and logos with one click of a button. 
This is a user-friendly platform used by everyone worldwide and is a platform you want to have!
How to make a PVC card design
Start with inspiration
We hook you up with thousands of professionally designed templates, so you're never starting from a blank canvas. Search which card you are looking to design first and then what mood, colour or aesthetic design you want to create. Once you find a template to start from, click it open and start editing.
Remix it to make it your own
There are lots of ways to personalise your ID card templates. Change up the copy and font. Sub out the imagery with photos of your company or products or browse from thousands of free images right in Canva. Spend as little or as much time as you want to make the graphic your own. You can even auto-apply your brand logo, colours, and fonts with a premium plan, so you're always on-brand.
Amp up the flair
Adding extra flair and personality to your projects with Canva's extra assets is easy. Add animated stickers from GIPHY or apply a text animation for short-form graphic videos in one tap. Canva has covered all the boring technical stuff so you can focus on your message and style. You can also add collaborators to your project to have a more hands-on-deck, bringing your design to life and having your team help you.
Resize your content
Make sure your card is designed in a 86mm x 54mm design size. This will ensure that it will be in the correct format when printing your card. We have sized our templates according to the necessary sizes, so you do not need to worry.
Download and print
When your card looks correct, click the share button on the top right. Make sure to select download. Next, select pdf to print and then CMYK for printing. Select the number of pages you want to download and click download. Your card will now be ready for printing. You can hook it up to your card printer or send the artwork to us directly. Yay, you're done!
This card design was printed on our DS3 card printer. See how nicely the colours come out and how rich they are. This is the card printer you want if you want to have a card bureau. 

Please follow our videos here if you want to design with Canva, an easy-to-use design software.
Have more on your plate?
If you want to design on Adobe or Affinity, please download the templates as pdf print above, open them in your chosen software, and follow these videos by clicking here. These platforms will be easy to follow if you are more familiar with Adobe or Affinity.

Please click here for our video if you want to design a database and link it to your card design. This is usually for when you have multiple members or employees you are printing cards for, and it would take time to manually publish their information on every card.

If you would like us to design artwork for you, we charge a fee of R450.00.
Templates make the design process easy
Templates from Canva make the design process so much easier as you already have the skeleton laid out for you. All you need to do is add your brand colours, logo design and card information to your card. If you do not have a logo design, you can also design that on Canva!
The entire system is very user-friendly. No knowledge of graphic design or programming is required. With a little practice and some trial and error, you should be able to master the basics of design in just a few minutes.

Don't be afraid to experiment with various options. You'll see the results of your changes immediately, and you can change them with just a few clicks of your mouse.
Keep on trying; you will soon create a beautiful card representing your company and what it stands for!
Design your own 
Hone your creativity with the power of Canva. If you do not want to use our designs, you can create your card from scratch with a few ideas from some templates.

Establish a theme for your designs using photos, icons, logos, personalised fonts, and other customisable elements to make them feel entirely authentic.

Duplicate designs and resize them to create consistency across multiple types of assets. With Canva, it's free and easy to make, save, and share your designs within minutes. Having a consistent brand is what sets you apart from others, and it makes you look good. 
These templates are meant to be a stepping stone to help you design your cards, so if you want to create your own from scratch, that is much better because it's unique to you and your company. 
Even if it may be frustrating, keep on trying. We're here to help, so if you need some expert help. Feel free to contact us. 
To sum up
The templates we have created on Canva for you are easy to use. Design your cards within a few minutes, and download and print them immediately.
You don't need to use costly software that takes hours to learn. You can create your design within minutes of learning and create beautiful cards representing your company and brand.
Bring your imagination to life with Canva and explore all it offers in one software. Stand out from your competitors with unique designs that will make you stand apart from the rest.
We are proud to have stumbled upon this excellent design software, and we're happy to share this knowledge with our important clients. 
We look forward to seeing your designs. Please email them to sales@easi-card.co.za or visit us for more information.
---