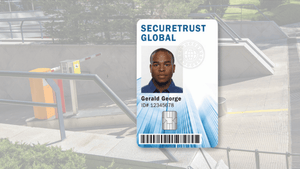 How to take good staff ID photos
The most important part of creating a staff ID card is?… Yes, you guessed it, a good ID card photo.
But the process of taking a good ID photo can be difficult. It can take many attempts to get the perfect shot which ends up taking hours out of your day instead of just a few minutes. 
Many different issues can arise from your employees taking ID photos. For example, employees may feel uncomfortable with someone taking their picture, which may cause them to move or fidget creating a shaky or poor image. Or images may contain a shadow from poor lighting. 
We all know how precious our time is and we are here to help you take the best staff ID photos in the least amount of time. We are here to help you get a professional card that promotes your companies brand. 
In house or outsourced cards:
Whether you'll be printing your own ID cards with your very ID card station or you are outsourcing the cards to our printing factory, you'll want your photos to look neat & professional. 
We supply an ID card station that includes:
Logitech webcam (for capturing easy professional ID card pictures)

Card printer according to your printing needs (number of cards needed to print). 

Youtube support videos

(help you print quick and efficient ID cards)
Benefits of In house printing:
The main benefit of printing cards in-house or at the office is that you can print cards wherever and whenever you need them.
The ID card printer is already by you when you need to issue new cards. Therefore when a visitor is on-site, a new ID card can be produced right there and then! 
Not only does this portray a professional image to staff and visitors, but you can also produce large volumes of cards in the comfort of your office. Saving you time and money. 
The process of taking ID photos, adding variable data about your staff onto a spreadsheet and sending it to us can be time-consuming. And with in-house ID card printing, you don't have to worry about any of this. We are all about saving you time and money. 
Costs of inhouse printing:
ID card printers can be complicated to get used to, therefore it may take some time to get used to using your printer. 
However, once you've navigated your way around it, you will be able to easily print out large batches of cards in no time, creating the professional image your company has always wanted. 
Training additional staff on how to use your ID printer can save even more time. There is an easy solution for this. We have created training videos on all the DS range printers we supply to help make the process easier. 
These training videos are very easy to follow. If a staff member that knows how to work the machine is absent and cards needed to be produced, another staff member could easily carry out the task by watching a few of our quick training videos. 
Benefits of outsourcing ID card printing
Outsourcing to ID card printing professionals (our factory in Durban) is the easier option. All you have to do is send us your database and artwork (free or Affinity) and then we will produce your cards and deliver them to you. It's that simple. 
Many businesses prefer this way as cards are of better quality and more professional looking. They are also free from errors or mistakes and printed within just a few business working days. 
Cons of Professional Printing: 
Delivery may take longer than usual and cost more if you require a special ID card security feature (including lamination). 
Other than that this is a great way to get your cards out as quickly as possible, looking as professional and neat as possible. 
Capturing a good ID card photo
By taking a good staff ID photo, you should focus on:
Place

Positioning

Background

Lighting

Practice shots

Environment

Camera memory
These are a few elements that are very important when taking ID photos. 
The importance of a good staff ID photo
A good quality ID photo is important to:
Maintain a professional corporate image. Promoting your brand and ID. 

Keep your organisation secure from criminals entering your building or security threats. 

Ensure only authorised staff members or visitors are on the premises or building at all times. This is particularly important now with more staff adopting flexible, hybrid working patterns post-Covid. It is important to know who works there and who does not to prevent any security breaches. 
Taking good quality ID card photos ensures your organisation can quickly identify individuals from their ID badges without having to ask them who they are. 
Tips for taking good staff ID badge photos
Place
You don't need a huge room. Having a smaller area may be easier to work with. Make sure you find a space that has enough space for you and the staff member/visitor to take pictures in. 
Quick hack: Make sure that your chosen location isn't a busy area. This could cause distractions for your staff member or visitor and could slow down your productivity. You do not want to waste time here.
Positioning
To make things easier for both yourself and your colleagues, we suggest that your colleagues or visitors sit down on a designated chair that is upright for the photos.  
The benefit of having your colleagues sit down is that you can keep the camera and tripod at the same length, giving the photographs a little bit more consistency. You will only have to adjust the position of the tripod if someone is very tall or very short and out of the camera's focus. 
It's also important to ensure that your colleague's hair and mask is away from their face, allowing their full face to be captured for the photo ID. This is important when the security officer identifies them so that they look exactly like their photograph. 
Quick hack: Offer your colleague a mirror before the picture so they can make sure their face, hair and outfit are neatly styled for their employee badge ID photo. On a web camera, you can use the camera as a mirror if you don't have one. 
Background
White, grey and light blue backdrops are the most common colour choices for ID photos.
Backdrops can be a solid wall or a pop-up stand that allows you to take pictures in different areas based on the lighting. This may be more convenient for larger organisations with multiple sites. They can use the same pop-up stand on many different sites. 
A neutral background can enhance the face of your subject and reduce unnecessary shadows. It makes the ID card photo look more professional than a messy ID photo with a dull background and shadows. 
If you are struggling to find a neutral background you can easily photoshop your picture and just change the background to being white. We use canva for all our designs and it's a quick and easy way to look professional if your background does not fit the look. 
Quick hack: Place your colleague about one foot away from the wall to create a softer shadow behind them.
Lighting
Lighting is one of the main reasons why ID photos come out so badly. People forget about how crucial lighting is to making a professional ID.
Office lights are not the most professional and are often not the best shade of lighting you need to use to make good photos. You will often need a lot of lampshades to fill in all the shadows on your face and this may be annoying and frustrating after a while. 
We suggest if you have a large lighting kit, this is the best thing to go for and you can easily get this off Takealot (just look at the reviews for the best ones). Otherwise, if you are looking for a cheaper solution either find a large light that you can put a light sheet over to soften the light. Or just use natural lighting.
Natural lighting is your best friend and is probably the best for a small budget. Anywhere in the office or on-site that has a wall behind it and some natural light that is soft on the face is a great place to take ID photos. 
Quick hack: Please make sure that your colleagues have no shadows on their faces when taking the image. Rather re-shoot it if this is the case as it will come out dark and unprofessional on the card.
Practice Shots
You know what they say, practice makes perfect. And it does. Find a colleague who doesn't mind being your model for half an hour and snap away! 
Taking test shots not only helps the shoot run smoothly, but it also means you've got some time to become comfortable with the camera. You can have time to arrange the perfect lighting, positioning and backdrop. 
Quick hack: try not to rush into things. If you have a set time to do everyone's photos, rather be prepared and most importantly, have fun! 
Environment
Let's face it, no one loves camera day. Everyone feels unprepared and they just want to get it over and done with. They all dread that their cards will come out badly. 
But this can be prevented by setting the tone. When your colleague comes in, try to make some small talk with them to put them at ease. Make them feel comfortable and assure them that if they do not like their photo they can retake it. Try not to rush them as this can be very stressful for some.
While you're making them feel comfortable, have a quick search for some bad jokes to tell them – we all love a bad joke. This makes your colleagues feel that they are not being judged and makes it a fun experience. 
Camera Memory
This is probably the most important thing when taking ID photos. The last thing you need is for your camera to run out of memory mid-shot and you have to explain to all your colleagues that they have to re-take all their photos again. How embarrassing… 
Quick hack: make sure to check you've got more than enough space before taking your first picture. Delete any unnecessary content that is taking up your camera's storage.
With these quick tips, you will be able to create great ID photos that represent your brand and your colleagues. 
Cellphone ID photos
At Easi-card we don't recommend that you take your ID photos on an ID card. Cellphones have become more advanced over the years but if you do not have a high-quality camera, the pictures will come out poor and unprofessional on your cards. You would have wasted unnecessary time taking them and you would not be able to convert them to a higher quality.
We suggest you buy our Logitech webcam or our Cannon camera kit with a tripod. This will ensure that the images you take are crisp quality.
Here is a video we created that shows you how to take a good video on our Logitech webcam and how simple it is to set up on any computer. 
Important information on an ID card
ID cards just need the basic information of a:

Name & surname

Position

ID number

Corporate logo

ID photo

Date
If you need your ID cards to be for access control. We have many different types of smart cards available for your unique needs. All of these cards can be used with our card printer range. 
You can easily add additional security features such as goulash, hologram or fluorescent overlay. However, this will have to be done with a specific laminate which can be done with our factory or on the DS2 or DS3 card printers. 
Additional tips for taking good ID photos
Make sure the camera is on a tripod or stable on your laptop (webcam), as shaking hands can result in poor, unclear pictures.

Try not to zoom in on the camera, as this lowers the quality of photos. Instead, move the camera closer to your colleagues.

When taking their picture. Take a mid-shot. Meaning that you should aim the camera from just below their shoulders up. This is to ensure that you get the whole subjects face and a bit of their torso so that it is not unordinary. 

Aim the camera facing directly at eye level to get the best shot. Tell your colleagues to focus on the lens. Making it a bit more comfortable and ensuring that their eyes will be focused on the camera and not the photographer. 
Your cards will need to be visible for the security officer to see them. The easiest thing to do is ask your visitors or colleagues to wear them. Browse our range of ID cardholders and accessories. 
Taking professional ID photos doesn't have to be difficult. With the appropriate surroundings, lighting and positioning, you're on your way to creating great ID card photos. 
Just remember to create a positive atmosphere for your colleagues and try to make them feel comfortable in your environment. 
If you decide to create your employee ID cards, it's necessary to have your artwork and database. This will make your life a lot easier. Please look at our tutorials on how to do this for more information or call us if you are confused. 
Or to learn more about printing ID cards, take a look at our tutorials on printing ID cards at ease with our DS collection.
Get an instant quote online. Fill in the contact form at the bottom of this page to get a free quote from us today. It doesn't matter how well-formed or work-in-progress your idea may be: we can help. 
If you'd prefer to speak to one of our friendly team members, then please call us on: 011 487 1536 and our talented team will be in touch today.
---