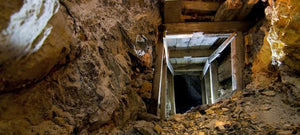 How the Datacard SD460 can protect your property from illegal miners
How the Datacard SD460 can protect your property from illegal miners
Nowadays, the counterfeiting industry continues to gain ground. However, when your private properties or possessions are at stake, it's good to know how to defend yourself effectively.
In this context characterized by an innovation race, a lot of new technologies are emerging, thus giving a new impetus to the field of security.
That's why we get involved, in order to offer you innovative and quality equipment, in particular to produce tamper proof ID Cards.

Currently, everybody is aware of the importance of illegal mining, which is very difficult to prevent. Indeed, among the 6,000 abandoned mines recorded in South Africa, it is estimated that their are 30,000 Zama Zamas mining a large quantity of resources.
The name "Zama Zama" comes from the Zulu langauge, and means "those who seek their destiny".
A beautiful metaphor, but which constitutes a major problem not only in Africa but also worldwide. Indeed, Zama Zamas do not only work in abandoned mines, which are often very dangerous.
Sometimes they may decide to enter your own mines, much more secure and easier to access. This is a concern, not only because they get themselves into danger, but also because they are entering places they are not supposed to have access to.
Murders, accidents, fraud, money laundering, illicit economy, are enormous dangers linked to this uncontrolled clandestine activity, which must not be allowed to enter your territory.

Destabilizing the balance of international trade, it was actually estimated in 2005 that 10% of South African gold traded around the world was mined and sold illegally. In 2017, the Minerals Council confirmed that the state was losing as much as 21 billion rand, or nearly 1.3 billion $US, with these illegal practices.
So having a way to prevent illegal minors from entering your mines, to face this massive well-known issue, is essential. That's why the stakes linked to innovative ID Cards should not be neglected.

Indeed, you don't ignore that, if your identification systems are easily falsifiable, nothing will prevent identity thefts. It is child's play to reproduce or print a banal card with your own photo on it. But when your ID Cards are made in a unique way, completed with a 3D logo you have chosen, the challenge is suddenly much harder to take up.

That's why we offer a wide panel of ID Card Printers, so that you can design unique and reliable ID Cards for all your employees. For example, our Datacard SD460 Card Printer features the tactile printing technology, so your logo can be embossed, making it impossible to duplicate.
Fraud attempts can therefore be easily stifled. So, in addition to offering ID Cards with a stylish, personalized design, the Datacard SD460 Card Printer will protect you from identity thefts and illegal minors.

The principle is simple: you choose the image you want to see in 3D on the background of the ID Cards, and which will be realized in relief thanks to the inline lamination module of the Datacard SD460 Card Printer. Also, each laminate can be numbered, so you know which unique individual the ID Card belongs to.
The transparent film covering the ID Cards, on the other hand, cannot be removed without leaving traces. If the photo has been changed, you will notice it immediately. And all this can be done in a single pass, for quick and easy creation.

Equipped with encodable chips, these ID Cards are therefore adaptable to all your security needs, including the digital ones.
Thus, opt for the maximum security in your mines, thanks to Easi-Card!
---