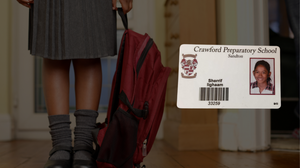 3 ways to make your school safer
Picture this: Each student has their own personalized, unique, and secure smart school ID card. Equipped with the fastest and safest technology to date and branded with your school information on it.
With their card, they enter school with a single tap. Upon arrival at class, students can tap in and out allowing attendance and movement tracking. Later on in the day, they need to pay for something at the uniform shop, or perhaps make a copy in the printer office, tap tap. 
The next stop is the tuck-shop: with a single tap, students can pick up pre-ordered lunches and pay for their lunch at lightning speed.
 Perhaps they have to pay for a fundraiser or school outing, tap tap. Suddenly their card becomes a universal card, one that controls everything at school, and it is valuable to both them and the school!
What issues are schools facing today?
Schools are safe learning and working environments where children can grow to their fullest potential. 
But over the past two years, schooling has been disrupted by the COVID-19 pandemic. Leaving schools vulnerable to the spread and generally an unsafe environment. Rife for the breeding virus. 
The virus has prevented children from socializing with their friends and learning practical skills. Making them miss out on valuable years of their life.
Children are also subject to more violence at schools nowadays. Over the years an increase in kidnapping has prevented children from living a normal school life. 
Next year, learners are looking forward to coming back to school with the hope of no disruptions, no online learning and generally a safer environment. Hoping to be reunited with their friends and teachers for normal school days. 
Schools need to be prepared for learners to return safely. We know that this is a big task to take on. That is why we provide a cost-effective solution for your school's needs!
Adding security to your cards
While a basic ID card with basic information such as the students' name, photo, student ID number, etc. is a great start for improving the security of your school.
It is not a solution for preventing unwanted criminals from entering your school.
The basic ID does not stop the spread of the virus. Security guards would have to ask the student, visitor or teacher for their ID before entering the premises every day. Touching the card of every person. Therefore, increasing the spread. 
Many more options are available that are more secure. The type of ID card you choose will depend on what kind of access control and information you need and want to include in your school. 
There are three basic types of school ID cards to choose from:
Barcode
Barcodes are a popular and cost-effective way to secure your school. The barcode is scanned and read by a barcode reader which then verifies the cardholder's identity. Therefore, granting the student or staff member access. 
This is a cheaper way of storing your cardholders information. However, it is not as secure as other technology and has a limited amount of storage. So you will only be able to capture a limited amount of information about the student, visitor or teacher.
Magnetic stripe
A magnetic stripe ID card is also known as a mag-stripe card. The card is made from PVC and has a band of magnetic material embedded on the back of the card. The stripe is encoded with the cardholder's data and is read by swiping the card through a magnetic stripe card reader. Once read, the reader will match the code and grant the cardholder access. 
This is a cost-effective way to secure your school but can easily be replicated. E.g. There are many cloning devices easily available on Takealot that can be used to clone your card and access your school. The lifespan of these cards is much lower than smart cards. 
You would have to implement a dual authenticator to make it more secure. Meaning that you would need to swipe the card and enter a pin. Schools are a fast-paced environment and do not have time to make everyone do both processors to get into the school. This would increase the spread of the virus by inputting the pin every time. Making the school more unsafe. 
Smart card encoding
Smart cards are plastic cards with a chip embedded inside of them. This chip allows the card to send and receive data from a card reader. 
Ultimately, it is a cashless school card. From a single tap, a student can quickly and efficiently enter places at school, pay for their lunches, uniforms and be present for attendance. The list goes on and on and I think you get the point.
The bonus of preventing any unwanted visitors from accessing your school creates a safe learning environment for all. 
However, this is a much more costly solution. But it has multiple uses and is the most secure solution out there. 
Benefits of a smart card
Cashless transactions
One of the biggest benefits of smart cards is cashless transactions. 
Students can pay for their food at the tuck-shop, borrow books at the library and pay for uniforms at the store all with a tap of their smartcard. 
Parents do not need to worry about giving their children cash at school. Making it a safer option against bullying or stealing that goes on at schools. And reduces the need to touch dirty money that could be contaminated. 
An added benefit is that children can learn from a young age the importance of money and the responsibility of looking after it. 
What can we do for you?
Easi-card offers the latest software in cashless systems that will be able to turn your school into a cash-free zone in no time at all.
How does it work?
Each child is given their smart ID card branded with the school's name, logo, personal information etc... Each card has a unique ID that's associated with each student. Preventing any replicated cards. 
Similar to a prepaid gift card. Money is loaded onto the card by the parent where they can manage what their child is paying for by limiting the amount of money they give them. Parents will get notified of the payment when a purchase is made. 
Easily manageable 
"If you can't measure it. you can't manage it'' Peter Drucker.
These smart school IDs are coded with unique IDs linked to a particular student and teacher. These IDs are linked to your management system on your computer where you can access important information about them that can improve your school! Just think of the possibilities! 
This technology goes beyond the basic identification of students, teachers and visitors. With this smart technology, you can control who is allowed access to specific areas, see what they are buying and finally understand what is in demand at your school and which areas you need to focus on to improve your school.
This valuable information can be captured by using our smart cards and management systems. Helping you understand way more about your school and business than you ever would before!
Access control 
Schools can provide access to selected students or staff for accessing particular areas such as labs, staff rooms, etc. This makes managing much easier and prevents children from entering areas that they are restricted to.
Additionally, this is very important in preventing criminals from gaining access to your premises. Creating a safer and more convenient experience at school. 
How to control visitors?
Visitors will not be able to access your school without a basic ID verification card. Those that are visiting will be given a temporary card at the reception that has all the basic information about the person. They will not be able to access unrestricted areas because of its basic functionality. Therefore, protecting your students and staff. 
You can recycle these cards, preventing any unnecessary waste with us. 
Durable 
Unlike traditional ID cards, school smart cards are made from durable plastic and can be reused for a few years. This saves money and also helps avoid the hassles of re-distributing new ID cards every term or year. 
Students and teachers have to keep their cards safe. If they are lost or stolen, the card must be deactivated and a new one must be issued. Eliminating the risk of theft at school. The student or teacher will then have to pay for a new one, ensuring that they do not do it again.  
Secure
The more customized or complex the design of the smart ID card, the harder it is to replicate and the easier it is to identify that it is a legitimate ID. 
These are ways that you can make your school card more secure:
Adding school colours.

Having your specific font design. 

Adding your logo design.

Using holographic security imagery. 
Holographic security imagery means a transparent protective layer or film is fused over your card. Normally the hologram is a three-dimensional image of your logo. You can do this on a DS3 card printer. You will need to buy a special ribbon for this high-security application. 
The more features the design has, the more difficult it will be to copy and be used fraudulently. 
Cost effective 
Smart cards help save a lot of money by making your school more efficient and safe. The cost of a smart card is minimal in comparison to the safety of your school. 
With our recycling cards, we can recycle the technology cards and replace the ID card every time a new student is enrolled. Saving your school huge amounts of money. See our video below. 
Attendance 
Roll call takes a lot of time out of teachers day in the morning. Manually calling kids names is outdated and no one enjoys it.
By having a smart card, teachers do not need to spend time meticulously marking attendance every day. 
Instead, students just need to carry their smart card IDs to their school classrooms for attendance to be recorded. Attendance will be recorded every day with a simple tap of the reader. Allowing the students access to their classrooms. 
Teachers and other school staff can mark their attendance the same way as students do with the simple tap of smart cards on readers. 
At the same time, you can make students, teachers and staff record their temperatures to ensure that the spread is contained.
The great thing about having access control is that it reduces touch, limiting the need to touch things and spread the virus. Thus, ensuring that your school is a safe, hygienic environment for all. 
Library management 
Children are usually terrible at keeping track of when their library book needs to be returned. Often give their books back late and are rewarded with detention and a very angry look from the library teacher. 
This can all be prevented with smart cards. Smart cards are extremely useful for library management. Library books can be tracked from borrowing them to returning them. They can also record the due date and fine collected date on the library management system. 
The fine will be paid by students using their smart cards on the spot without having to ask their parents for the money. Therefore, holding them accountable for their mistakes. 
Medical history
Cards provide an opportunity to include additional useful information. E.g. The front card can be designed to include important medical information such as the name and phone number of an emergency contact or a list of any allergies and required medications.
In case of medical emergencies or situations, medical history can be easily accessed. This is very important information for teachers or staff members. They can also access this information on the management system that we provide with your smart card management system. Provide valuable information about your students on a secure database.
E.g. if a child is severely allergic to bees. The card could give valuable information on where to find their EpiPen. This can save the child's life.
Conclusion: is your school ready for change?
Having a smart card solution means better security for teachers, visitors and most importantly, your students. They make sure that everyone on school grounds belongs there.
There are so many added benefits when you use smart card technology in your school. By using the management system and smart card technology you will have a better understanding of your school and how best to improve it. 
If you are implementing an ID card program for the first time, it's a good idea to inform parents, students, staff members and teachers in advance about the decision and explain how it will benefit the safety and security of everyone at school.
You might want to outsource your ID card project by using us, or you may want to invest in your card printer and handle all of the production and printing on-site at your school.
Whichever way you choose to approach it, know that you are investing in the safety of your staff, students and school and there is a solution for your needs. 
---