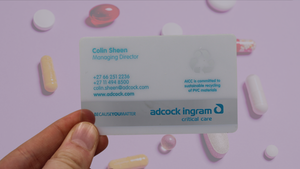 Boost your brand with our unique business cards
In today's competitive business environment, customers have more choices than ever, and businesses are always looking for new & innovative ways to stand out from the crowd.
If you own a business, chances are you know how expensive it is to advertise and promote your company. We're here to tell you that there are alternative and more affordable ways to promote your company without spending so much money. 
Business cards make great conversation starters at networking events, business functions, or client meetups.
Our affordable prices allow small businesses like freelancers, digital marketers, law firms, and medical practices to purchase plastic cards without going over budget.
Before deciding which plastic card is best for you and your business, look at our video highlighting the different cards we offer, including Frosted and Clear business cards.
Why plastic cards?
Plastic cards give your brand a premium look and feel and create a long-lasting first impression. 
Plastic cards are unique and durable. There are many reasons why they are so popular:
Durability: they will not wear and tear, leaving your cards looking beautiful for a long time.

Uniqueness: these cards allow your business to stand out from the rest. Never let your clients forget who you are. When your customers get home, they have something to take and remind them of your company.

Thickness & size: our cards can be any thickness you require but mainly are the standard CR80 card. However, we do oversized cards. The frosted & clear are usually 410-micron thick, half the thickness of a blank white card, making them much more flexible and easier to carry in a purse or wallet. 

Customisable: this makes your card more modern and attention-grabbing. 
Plastic cards are great small items for customers to hang onto for future use. Cards can also be used as gift cards, membership cards and loyalty programs, allowing your brand to pop!
We offer many different sizes and prints based on your company's needs.
Clear plastic cards 
Clear cards (also called transparent plastic business cards) are a marketing piece that stands out from the crowd. 
Customers who receive these cards are continually impressed and intrigued by their transparency. They are entirely transparent, allowing you to see through them. Your logo, company name, and contact details will be front and centre with clear plastic cards.
These unique cards will turn heads and keep people talking about you and your business. Oh, and they will more likely keep your card too!
Frosted plastic cards
These cards are our most popular option, providing a unique, cloudy look and a slightly textured feel. These cards provide a great way to show off your newly designed cards.
Frosted cards are highly water-resistant and durable, allowing your cards to last for a long time. Make a powerful first impression with these cards. 
White plastic cards
Our standard white plastic cards are CR80 size and 760-micron thickness. However, traditional business cards are too wide to fit into wallets.  By making cards slightly thinner, we can create business cards that your customers can quickly put into their wallets or purses and look at later. 
Unique designs can add to this card, including:
UV spot varnish

Metallic print

Embossing 
UV spot varnish adds a raised finish to your cards, giving your card a unique flare and feel. One that your customers cannot resist.
Metallic print is an added sparkle to your card, usually gold or silver, creating an eye-catching appeal. 
Embossing adds a raised text to your cards, providing a clean and modern look and allowing text to stand out from the card. 
3D bubble cards
These cards give your company a unique and fun feel, giving them a magical appeal. Bubbles are just one of many design patterns that you can use to make your card special. Designs can be up to your imagination, so let it run wild!
These unique cards are perfect for companies that want to make a statement and provide a long-lasting impression. 
Oversized cards
Having an oversized card can be a disadvantage if you want people to take it home with them because these cards will be too difficult to put in their wallets or purse. 
They are, however, great for events and networking functions. Having a giant card allows your potential client to read off it more accessible and recognise your name, creating a great conversation point. 
Oversized cards are standardised in their shape but can come in any size your company desires. 
Small plastic cards
Small plastic cards are also known as key tag cards. These cards are standard in the membership and loyalty cards, mainly used for gyms, grocery stores, and retail. 
These cards are small and great for attaching to your car keys, ensuring that you never get them lost. However, if used as a business card, they may be forgotten or left somewhere. 
These cards are incredibly fast to swipe and scan, making them suitable for any environment.
Key tags are great for membership and loyalty schemes because they can collect information on their customers. Including, buying behaviour across geographies and plan future marketing campaigns. Not to mention they are much more affordable. 
Additional features on cards
Cards can have additional features, including magstripes, QR or barcodes. If you'd like to add these to your cards, please let us know, and we will add these features for you. 
Overall
No matter what size or shape you choose for your business card, a good design can help your card stand out. We know how difficult it can be to keep up with the competition and we are here to help beat them. 
If you would like us to design your cards, we charge an R400 minimum fee for artwork design and will help your business pop. Otherwise please send us your artwork with these guidelines and we will print the job for you in record time!
Please visit https://www.easi-card.co.za/pages/contact for more information. 
---