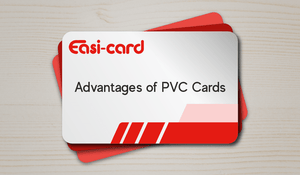 Advantages of PVC Cards
What are the advantages of PVC Cards?
PVC Cards, known as Polyvinyl Chloride are plastic cards composed of a graphic quality version. When it comes to these types of cards, Easi-card aims to keep the level of quality at top priority. The high quality PVC cards that we carry are all optically scanned and vision inspected to verify the purity and cleanliness.
The PVC card industry is growing through new printing technologies. Businesses and individuals are looking to swap from traditional cards to plastic. This means that PVC cards are accessible and affordable worldwide.
Plastic has many uses that come in almost every single size, colour and shape. It has become increasingly popular due to fact that it is durable and versatile. Putting cards onto plastic ensures that they can last longer and consistently represent a brand or individual, as opposed to other materials that are used which can be easily damaged.
It takes a lot to wear out a PVC card, which is why many companies are now venturing into the world of plastic cards for business practices.
To further support the above statements; here are some advantages that PVC Business Cards can offer you.
Diversity of Use
PVC Cards have a variety of different uses. They can be used for security, ID cards, business cards, rewards and membership cards. Name what you need a PVC Card to do and Easi-card can do it for you.
Customizable Design
PVC cards are able to apply any graphic, photograph, bar code, logo, artwork or text. These cards are only limited by the users' imagination.
No matter the design, PVC Cards have an attractive look due to customers' expectations for companies to stay innovative and creative.  Using this type of card can help you steer away from traditional and move towards the future. These cards create a great impression which counts the most within business practices.
Security
There are many types of card protection procedures that can be utilized to make your cards resistant to tampering or alteration. Precautions like hologram overlay ensure that a card is secure and cannot be easily reproduced or counterfeited.
Durability
Protection materials such as overlay patches and varnishes provide high levels of card durability. This makes the cards resistant to UV light exposure, water damage, exposure to liquid chemicals and mostly abrasion.
Professionalism
PVC cards support a professional look, making it easier for customers to keep the cards for future use. Their size allows them to easily fit into a pocket, wallet or purse making them long-lasting and create a continuing impression when handing them out. For example, plastic business cards give stability and durability that efficiently brands a company or individual. A professionally designed card will make you stand out from the others. It encourages a customer to pick it up and make an enquiry. PVC Cards used within business practices can be perceived as valuable and increase the chance that a customer will keep the card. 
If you want to move to PVC Cards, let Easi-card help you out. Contact our friendly sales team on 011 487 1536 to discuss your card requirements. Give us your design and we will make the magic happen.
---