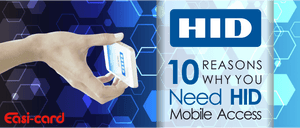 10 Reasons Why You Need HID Mobile Access
Ten Reasons Why You Need HID Mobile Access.
The future of Mobile Access has finally arrived. It is the latest development in physical access security. It gives users the advantage in the increasing mobile-first world by allowing our smart devices such as our phones to work as a credential.  It is an innovative, convenient and dynamic way to utilize our mobile devices for effective security measures.
HID Mobile Access has a reputable history of successfully enabling physical access control going forward. It leverages standard mobile devices to create a solution that is accessible, simple to manage and easy to use. Mobiles are consistently around us and a part of every aspect of our daily activities, making it the most valuable form of technology that we own. HID Mobile Access combines convenience with security by storing identities on your mobile to allow access to gates and doors with just a tap!
To further justify the convenience of HID Mobile Access, here are ten reasons your dynamic company can benefit from implementing the HID Mobile Access into your business practice.
Card technologies have been around for many years, offering little choice to the end users, as opposed to moving to tablets, phones, watches or wristbands which offers a wider choice for the end-user, supporting user's convenience and choice.
Cards are rarely perceived as innovative, whereas the HID Mobile Access system is perceived as modern and advanced yet convenient in the ever changing environment which revolves around technology. The users' experience is also enhanced by the ease of the tap or gestured technology.
Cards can easily be lost, stolen or shared which puts your environment at a security risk. Mobiles are generally closely guarded due to personal data and costs. If a phone is lost or stolen, precaution measures such as Find my IPhone is commonly used to erase data off mobiles devices.
Card technologies have been known to have weaknesses and abilities to be copied. Security protections are built into the mobile credentials which make them highly reliable and secure.
ID Cards do not offer integration of physical and logical access, whereas using the right mobile access like HID can unify physical and logical access controls on your mobile device.
Card technologies do not meet the world of practicing the best security and privacy standards. However, mobile access employs the best practice among other multi-layered authentication which is more secure and protects privacy throughout the use of the HID Mobile ID.
Cards require a visible reader on the wall, which increases the risk of potential vandalism. HID Mobile Access has a long range to read your phone. It allows readers to be inside the building or behind the locked door which reduces the risk of vandalism.
Issuing, cancelling or changing access rights of an ID card can be a slow procedure, as opposed to HID Mobile Access whereby mobile credentials are managed within a strong online portal which can be issued, revoked or changed, wirelessly on-the-spot.
Card technologies are not that eco-friendly which is a growing issue and ethical consideration for all companies, big or small. Mobile access supports sustainability efforts by moving access control into a greener footprint by upcycling an existing mobile device.
ID Cards can become unmanageable. Through HID Mobile Access, mobile credentials can be managed through an easy-to-use Web Portal.
Feel free to contact our friendly Easi-card sales team on 011 487 1536 for more information or specifications on HID Mobile Access.
---