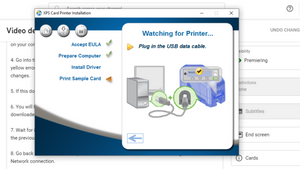 Driver and installation issues for card printers
What causes these issues?
When connecting a new card printer to your laptop, you must. Uninstall any previous drivers and card printers. Otherwise, your computer will get confused about which card printer you want to print for.
When you uninstall these drivers and card printers, you completely wipe the computer of any memory with card printers and drivers. So you have to manually install and upgrade the drivers to your laptop to make that connection. 
How do you know if it is a driver and installation issue?
If you have followed the procedure and tried to install the driver via the USB or disk, but you cannot install the driver, or there is an issue.
Usually, what happens is that you follow the steps to update the driver, and you cannot connect via USB or Network and cannot install the driver onto your laptop. 
Going the USB route
When you get to the step of plugging the USB into your laptop, nothing happens. You are unable to go past this step and install the driver.
Going the network route
You can install the driver, but you cannot get the IP address as the pop-up window does not give you that information, so you cannot go to the next step and print a sample card.
What steps to take to install the driver? 
Follow these steps to fix the issues you are having.
Step 1: Install the driver onto your laptop by going into the entrust support site for your specific card printer. Discard the USB or CD and download the updated version from the web. 
Step 2: Remember to uninstall any previous card printers connected to your laptop. Go into the control panel and uninstall previous card printers. E.g. This could include Evolis, Fargo card printers, Entrust and others.
Step 3: To uninstall previously installed drivers. Open previous drivers where they have been installed on your computer or downloaded and click uninstall.
Step 4: Go into the device manager, and left-click on your device. Mine was saved as Sigma and had a yellow error added to it. Click Uninstall. Once uninstalled, select action and scan for hardware changes.
Step 5: If this does not work, left-click on your device (Sigma) and select update driver..
Step 6: You must source the driver to where you downloaded it. For example, mine was downloaded in the downloads folder , so thatI will select that folder in the browsing section.
Step 7: Wait for it to install the driver onto your laptop. Remember you deleted it when you uninstalled the previous drivers, so it will connect the new driver to the new card printer.
Step 8: Go back into the installation process. You will see it would have worked using either a USB or a Network connection. Depending on which route you want to connect to. 
Step 9: Print your card and see that it is connected properly.
To sum up 
Knowing the route of the issue can be rather hard. If you are struggling to install the driver on your laptop this may be one of the reasons why.
Follow the steps above to fix this issue and get your card printer up and running.
If you are still struggling to connect or have no idea what is going on. Please contact us and one of our friendly staff members will be happy to help. 
---