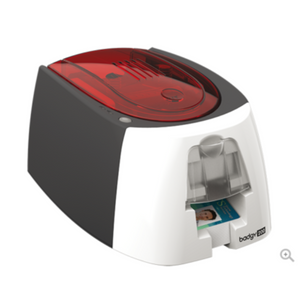 Badgy Card Printer | All you need to know
The Badgy Card Printer prints quality colour badges, 100 cards at a time. 
Perfect for:
Staff ID badges
School ID cards
Membership cards
Loyalty cards
Event badges
Visitor badges
This introductory level entry printer is small and compact, perfect for offices that do not have a lot of space. You can print from your office or at the convenience of your home. 
This user-friendly card printer produces beautifully printed cards with edge-to-edge printing (there will be a bit of a white border around the card). 
The compatible software allows you to import data from a database, add information to your card designs in a single click, and launch a print run of your badges with one command, including variable data.
This support guide is here to help you with questions on the badgy 100 or 200 editions. The same videos apply to both printers. 
How to turn on your badgy card printer
Turning the Badgy card printer on and off is simple. Make sure to follow these easy steps when getting your card printer ready for printing. 
How to install the software on your computer
Please follow this link to install the software on your computer. Here you can download this on your Windows PC or a Mac computer. Follow the prompts and finish off installing it. 
Below is the entire installation process:
 Installing a colour ribbon 
Here is a quick video to show you how to install the ribbon into your Badgy Card Printer. 
You may discard the whole ribbon cartridge and replace it with a new one. 
How to close the cover properly.
This video will explain how to properly close your Badgy card printer cover before printing your cards. This is necessary so that you do not damage the printer and must send it in for costly repairs. 
How to load cards into your badge card printer
Loading cards into your card printer is simple. Remove the card hopper and place the number of cards you want to print. Make sure to click it firmly back into place when you are done. 
How to print a test card
Printing a test card is a great way to see how your card will turn out. Printing a few test cards is ideal for the ribbon to warm up and print beautiful cards. Test cards are easy to print. Follow these simple steps to print a test card.
How to clean your printer
Cleaning your card printer is so important. It helps prevent costly repairs and gives you a smooth card printing experience. 
Please remember to clean your printer:
After every ribbon change.
After 100 cards have been printed.
If cards are printing lines or blotches on them.
If cards have been touched with oily hands or dirt. 
Cleaning your printer is the best way to keep it in excellent condition and last for many years.
How to clean the printhead
Printheads are the most costly part of the printer. If you do not maintain the printhead, your card printer will likely get damaged and go in for expensive repairs, sometimes forcing you to get a new printer. 
Please clean your printhead:
After the printhead has been replaced.
After you have touched it with oils or dirt.
After 250 card prints. Sometimes more regularly (100 prints).
If your cards are being printed with lines or dirt on them.
Once you know how to look after your card printer, cleaning it is easy. Using this magical pen, your printhead will be cleaned within a matter of minutes. Remember that the printhead is delicate so try not to press so hard on it with the pen. 
What to do with a broken ribbon
Broken ribbons usually occur when you have altered the printer manager settings and increased the temperature. This causes the ribbon to snap because the temperature is too high to print on the cards.
Please try not to alter your printer manager settings to avoid this from happening. Unfortunately, if you break a ribbon, you have to replace it completely and not repair it with sticky tape. 
This can be quite a costly mistake so try to stay away from this. 
What if you have a Mac computer?
Your Mac may not have the CR80 (card size) saved on the computer. You will have to manually create a custom size in your printer settings. Create a custom paper size by going onto any document (word etc) and set the Width to 86 mm X Heigh of 54 mm. This will then make sure that your printer prints on the right size of paper. 
Here is a video below to show you how to create a custom size on our Mac. Remember your computer does not know what size you are printing so this is necessary when you're printing a card. 
You can then go back into the bady software and print from there. 
How to create a card from the templates
This video will show you how easy it is to personalise the templates and create a card using one of the templates that badgy supplies. This step-by-step process allows you to personalise the templates and create a card quickly. 
Connecting your database to Badgy card software
The badgy software allows your customers to create and personalise all their badges and cards, intuitively and professionally. You can connect your database from excel or make it in google sheets and convert it to an excel spreadsheet. Just make sure to save it as an Xls document or CSV so you can attach it to the badgy software. 

Badgy is the all-in-one solution adapted to your organisation, businesses schools, clubs & associations, local authorities, and health professionals.
You can also edit your cards once it is connected to the database and print them.
Follow along and see the steps for connecting your database to badgy. 
How to clean the cleaning rollers
Cleaning rollers are really important in maintaining your card printer. They help keep your card printer nice and clean. 
Cleaning the cleaning roller is necessary to get any dirt or oils from going onto your card while being printed. The cleaning roller is meant to take any dirt or oils off the card, but it also needs to be cleaned occasionally. 
Follow along and see how easy it is to clean the rollers. 
To sum up
We hope that this blog helped you find out all the information necessary to maintain and work your badgy card printer. Please feel free to contact us if anything else arises or you need help. Contact us directly on 011 487 1536 or slaes@easi-card.co.za. 
---